Assasin's Creed Origins had Fake User Review Scores
The latest in the Assassin's Creed series has been out for a few days on multiple platforms. As such, a few users have started to make their opinions heard in regards how good the game is. Assassin's Creed: Origins was a promise to regain the credibility the series has lost, after all.
However, the game is going to be surrounded by controversy. As a report has shown that a big chunk of the game's positive reviews is from fake users.  The report made by Kotaku shows that reviews with awful grammar and structure are plastered all over the game's Metacritic page.
"Ways better than assassins creed unity and assassins creed syndicate," reads a review that appears roughly a dozen times, each from a different username. "it is more mature and bayek is interseting character, and de historical characters are handeld well."
There are over 600 reviews like this, and a great portion of them are made from fake accounts. The way they are handled makes exaggerated claims about the game and some are downright ignorant of the series' staple mechanics. With this, the game has reached a score of 8.0 at the moment of writing, but it has since changed to 7.0.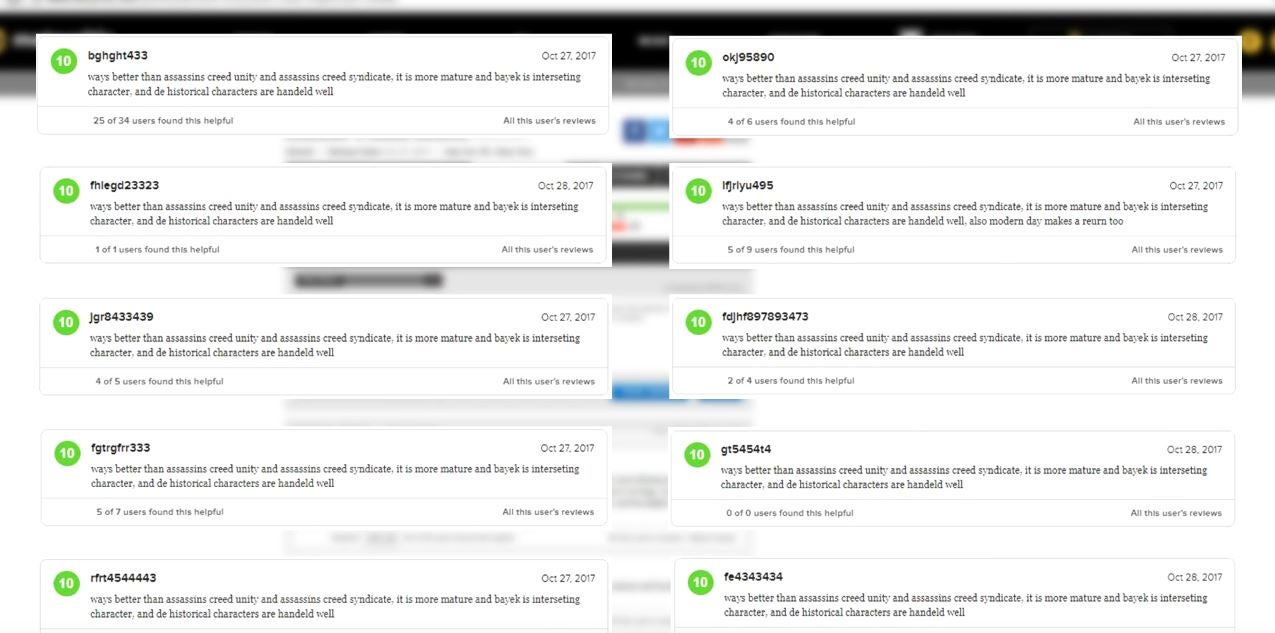 I must make clear that, while Metacritic has a User Reviews portion separated from the Certified Critics one. It doesn't mean that User Reviews aren't important. On the contrary, the User reviews also have a very powerful impact in the decision of purchasing a game to some players. Also, Ubisoft has denied any responsibility in regards to this, it's something out of their control.
Metacritic boss, Marc Doyle said that this sort of thing has happened before. "It's not a frequent occurrence, maybe 2 – 3 games a year," Doyle said. "And yes, we've been aware of this case, and we've been moderating those reviews (and suspending those accounts – most off of which had one single review in their history)."
It's certainly weird to see this sort of occurrence happening in the world of User Reviews. However, it's important to note that Reviews have to be clean from both sides. And it's the duty of the people who contribute to Metacritic to offer this insight.
Larian Reveals Baldur's Gate 3's Mildest Multiclass Builds
Since the excellent Baldur's Gate 3 has been out in the wild for a while, interesting data can be gleaned, such as how players choose to play an innovative new RPG from home. Stats from developer Larian Studios and posted on the PlayStation Blog show that most people want to play as a stealthy archer like in Skyrim when given nearly limitless options.
According to a fascinating graph, Rogue/Ranger is the most popular multiclass build, with over 175,000 players using it to snipe unsuspecting enemies from range. The next two builds reveal similarly. 150,000 played Barbarian/Fighter because they loved pummeling things, and 109,00 played Barbarian/Paladin, which lets players talk to their victims before beatings.
More sense emerges as you descend. If the Paladin/Warlock/Sorcerer/Bard has high Charisma, any combination can be interesting. Charisma helps these classes cast spells and abilities and interact with NPCs outside of combat.
Playing a single class through Baldur's Gate 3 feels great, which is what most players do. A pure Fighter or Wizard becomes so powerful by game's end that we don't blame you for not mixing things up!
Play as a Tiefling Oathbreaker Paladin, Dark Urge Origin (which you must resist), or Bard for real moral dilemmas. You could also play pseudo-Aragorn again.
Techland Shows Durable Dying Light 2 Content Roadmap
Techland is continuing to release Dying Light 2 content as part of its long-term support. This is surprising since the meaty Good Night, Good Luck update was released a few months ago. It's nice to know what's coming, but no timeline was given.
IGN-exclusive roadmap trailers reveal more co-op missions, board quests, a tower raid, and replayable GRE anomalies. Executions and finishers may be added to the April Gut Feeling update, which overhauled melee mechanics. Graphical options, weapon repair, gear, and mod dismantling are always welcome.
Knives, polearms, and more enemy variants are coming, including a Nightmare difficulty. Changes to NG+ include firearms. Players can finally dress to their hearts' content with new cosmetic options.
Has Techland's Dying Light 2 support lured you back? Would you rather focus on something new?
Epic to Globalize V-Buck Price Hike
Epic Games expanded the Fortnite V-Buck "pricing alignment" after laying off almost 900 employees, citing "inflation and currency fluctuations". Fortnite's premium currency will rise in international markets, including the largest.
Epic Games will raise the price of V-Bucks and real money content packs in the Czech Republic, Denmark, Eurozone countries, Hungary, Japan, Norway, Poland, Romania, Sweden, Turkey, and the US (including all US Dollar storefronts) on October 27.
Raising the price of this fictitious currency was successful when the company trialed it in the UK, Canada, and Mexico, so it was decided to announce it worldwide now. These USD increases range from $1 (1000 V-Bucks, previous $7.99) to $10 (13,500 V-Bucks, previous $79.99).
How do you view Epic's timing and pricing increase?