Top five VR headsets to consider in 2017, whatever your budget
VR has been on the verge of exploding for years now and we've come a long way from when Oculus Rift was first kickstarted all the way back in 2012. The last year has seen a veritable explosion in the number of devices being developed for various purposes. So the real question is which devices are worth looking at and which should you ignore? Well to give you hand we've compiled a list of what we believe to be the best VR headsets in 2017.
Do you want a mobile or tethered device?
Before we dive into our favorite devices there is one question that you need to keep in mind and it's an important one. Do you want Mobile or tethered headset? All VR headsets fall into one of these two categories.
Mobile headsets are essentially shells which house your smartphone. The lenses split your smartphone screen into two images and turn it into a VR device. While they are innovative and inexpensive, mobile headsets have a number of drawbacks in comparison with tethered devices. Phones aren't designed for VR, so you'll get worse picture than a dedicated headset and they are noticeably underpowered compared to tethered devices. However, the significantly lower price tag make mobile headsets a better entry model for somebody looking to dip their toes into the world of VR.
Tethered headsets are constrained by a cable which can make them a little unwieldy but they are specifically built to provide a top quality VR experience. This means that they will almost always provide a better experience than a mobile headset. This improved experience comes with a hefty price tag and you will generally need a pretty powerful PC to run your headset. A tethered headset is best for someone willing to make a real investment in their VR experience.
Our best VR headsets for 2017
We've included a healthy mixture of mobile and tethered headsets as well as headsets designed for both PC and console gaming. Rather than seeking the best VR headsets overall we've tried to find something that will fit everybody's needs and price range.
The HTC Vive – The Complete Experience
The HTC Vive is one of the best VR headsets out there at the moment. Made in partnership with Valve it has access to the largest video game library in the world. The Vive takes the kitchen sink approach, shipping with two motion controllers and two base stations. One of the coolest features of the Vive is its ability to track a users movements around a room. This lets you actively engage with the virtual world around you, although it would probably be a good idea to clear the furniture out of the way first to avoid any unintended collisions. HTC's partnership with SteamVR also means that the Vive works out of the box with any game available on Steam, even if it can't access titles from the Rift store.
While the HTC Vive is definitely the most complete VR experience out there it comes with a price tag to match. It will set you back over $700 and that is before you consider the hardware you'll need to invest in just to be able to run it.
The HTC Vive is undoubtedly the best VR headset on this list and it is for someone who already owns a powerful PC and has the money to spend on the most complete experience.
Sony Playstation VR – The best value for money, so long as you own a PS4
As the name would suggest, the Sony Playstation VR has been designed specifically to work with the playstation 4. It doesn't have the same raw power that the Occulus Rift and HTC Vive boast but it does provide a polished experience and looks gorgeous. That being said, You'll need some extras, such as the Playstation Camera and Playstation move bundle in order to use the device. There are also some problems with motion tracking in brightly lit rooms. That being said, the Playstation VR comes with a pretty solid library of games straight out of the box, so you won't be starved for entertainment.
The Sony Playstation VR comes in at just under $500 for the launch bundle, which includes all the required accouterments. This makes it one of the best value for money tethered headsets available at the moment. Or it is as long as you happen to own a PS4.
The Sony Playstation VR is the best choice for somebody who already owns a PS4 and either doesn't want to shell out on a HTC Vive or doesn't have the hardware in place to handle the Oculus Rift.
Oculus Rift – The Classic headset that runs the middle road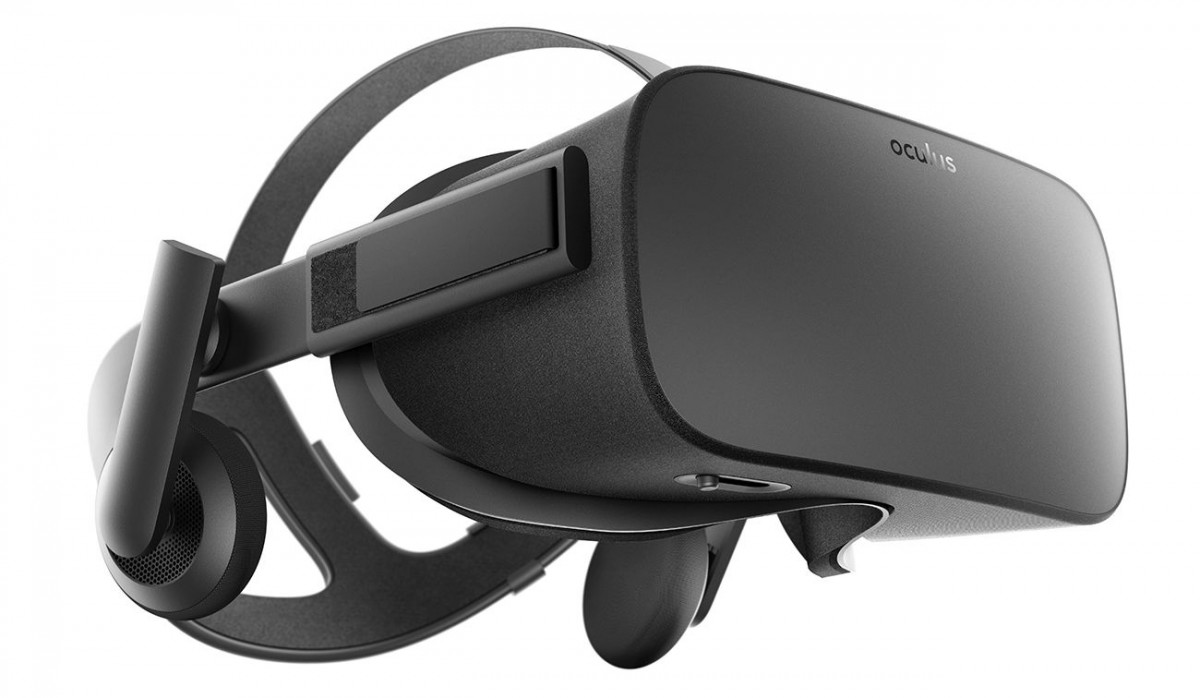 The Oculus Rift is basically a synonym for VR. From a technical standpoint, the consumer models of the Oculus Rift are nearly identical to the HTC Vive, minus the full room motion sensors. It comes bundled with Oculus motion controllers which gives the Rift the same basic functionality of the Vive and Playstation VR. It also has access to the Oculus Store and Playstation VR, giving the Oculus Rift a pretty good variety of games to pick from. The only thing that is lacking is Room Motion tracking.
Like the HTC Vive you will need a pretty robust system in order to use the Oculus Rift effectively. That being said, at just under $600 for the whole system it is cheaper than the Vive, if you can live without the room motion sensor.
The Oculus Rift is one of the best VR headsets for someone who wants the full VR experience but doesn't own a Playstation 4 and can't shell out for the Vive.
Google Daydream View – The most complete smartphone VR headset experience
This is the next step up from the Google Cardboard concept. All you need to make it work is Google's Daydream View and your smartphone. Like the Tethered headsets on this list the Daydream view comes with a separate controller.
It's compatible with a number of phones with more on the way over the course of 2017. The headset's distinctive fabric construction also helps to set it apart from over mobile VR headsets. Google's Daydream view is only compatible with android phones, so those of you using iPhones will have to look elsewhere.
If you want to test the waters before jumping in there is also the innovative Google Cardboard concept, that can let you try out VR for less than $5.
The Google Daydream is good value, providing a solid VR experience for $79.99. If you're interested in a good VR headset without completely breaking your bank, the Google Daydream View is for you.
FreeFly VR Beyond – Compatible with nearly everything
The big strength of the Freefly VR Beyond is it's compatibility. While a device custom made for your phone will always be the best choice Freefly have done a great job of making a mobile VR headset that will work with almost anything and still provide a solid virtual reality experience. The beyond is the latest model and it comes with so called Crossfire controller buttons built into the headset, which technically eliminates the need for any bluetooth controller. That being said, the majority of apps on the store are viewers, so it could be considered overkill currently.
The FreeFly VR Beyond has access to a huge variety of apps and it is a great choice for somebody who wants a top notch VR experience but doesn't own a phone supported by the Google Daydream View or Samsung Gear. The FreeFly beyond is available for $64.99 and will run on just about any smartphone regardless of operating system, unless it's very large or very small.
There is a headset for everybody
The world of Virtual Reality is becoming better with each passing day and we're likely to see some impressive innovations over the next year or two that will improve the experience even further. Until then, this is our list of the best VR headsets available right now, whatever it is you need. Let us know your favorite headset in the comments.
4 Most Interesting Crossovers in Gaming
Gaming crossovers are a great way to bring in new people and drive up interest in a title. With that being said, crossovers aren't as rare as they once were. More and more gaming companies are now embracing crossovers, to the point that some may say that it has lost its appeal. And while this is true to some degree, there are still crossovers that are really effective when it comes to adding a whole new dimension to a game. To prove our point, we've put together a list of five of the most interesting crossovers.

Forza Horizon 4: Halo

Forza Horizon 4 is the eleventh installment in the Forza series. The Forza series is known for its ability to emulate realistic racing conditions and offer accurate representations of real-world cars. And while they've partnered with car manufacturers before, Forza Horizon 4 features one of the most interesting collaborations in the entire series.

For a series that prides itself on realistic racing, Forza also knows when to cut loose and have a little fun. Nothing exemplifies this more than the Halo crossover that features Master Chief and the iconic Warthog.

Fortnite: Travis Scott

Fortnite is no stranger to crossovers. But if we had to pick one as the most interesting it would have to be the Travis Scott concert. Not only did this crossover include custom skins and emotes but it also paved the way for one of the most unique digital experiences of 2020.

The Verge's article on the Travis Scott crossover details that the crossover included an interactive digital concert that turned the Fortnite island into a music stage. What's great about this crossover is that it hints towards a future wherein music and video games will be working hand in hand to deliver immersive musical experiences to millions of people from all over the world.

Merge Dragons: Rick and Morty



When you think of the popular TV show Rick and Morty, a fantasy puzzle game isn't the first thing that comes to mind. This is what makes this Rick and Morty crossover so interesting. The sheer absurdity of this crossover shows what gaming collaborations can achieve when one thinks outside the box. The game features original dialogue spoken by the characters that matches their characteristics from the show. It is a fun addition to the puzzle game.

However, this crossover shouldn't be too surprising as Rick and Morty have appeared in other games, demonstrating how they have become pop culture icons. The comic nature of the duo makes them perfect for every type of genre, including slot games. Foxy Bingo's pop cultured-themed slots include an official Rick and Morty game that features the iconic imagery and characters from the show. The show has also produced its own game in the form of the Pokémon-clone Pocket Mortys. One thing that all of these games have in common is that they maintain the show's penchant for fun and wacky adventures. This is seen in Merge Dragons with the exclusive cow-dragon hybrid featured in the crossover event.

Mortal Kombat 11: Rambo



While crossovers in fighting games aren't exactly new, Mortal Kombat has always had a knack for creating interesting crossovers for their iconic fighting game. One way that they've done this is with the inclusion of popular film characters. The franchise has had everyone from the Teenage Mutant Ninja Turtles to Jason of the Friday the 13th franchise appear in their games.

However, the latest iteration of the game may have topped all of the previous crossovers. This is because Mortal Kombat 11 features John Rambo of the legendary Rambo franchise as one of its available fighters. To add to this, CNet's article on Mortal Kombat 11 details that Sylvester Stallone voiced the digital John Rambo. This is certainly a treat for fans of the popular action film franchise, as they can finally play as one of the most influential action heroes of all time.
Loot Crate vs. The Curiosity Box: A Beginner's Guide to Subscription Mystery Boxes
With all the loot box shenanigans we've witnessed this year, you might have, while searching for more information, accidentally stumbled across something by the name of Loot Crate. Unlike the reviled loot boxes, Loot Crate isn't a digital gambling scam. Instead, Loot Crate is a physical, subscription-based mystery box you receive in the mail that contains a bevy of geek-related material. Moreover, Loot Crate isn't the only available service. Alongside the vanilla Loot Crate Classic, the Loot Crate company supplies geeks with anime-themed items with Loot Anime, gaming swag with Loot Gaming (Loot Crate also sells Halo, Minecraft, Fallout, Call of Duty, and Destiny 2 themed boxes), and film/TV merchandise with Harry Potter, Firefly, Marvel, and Star Trek themed boxes. Loot Crate also has a rival in the form of Geek Fuel, which is more expensive than Loot Crate Classic but contains more (and more expensive) merchandise. While I don't have a Geek Fuel box to compare to a Loot Crate, I received a different subscription box for Christmas, The Curiosity Box. This mystery box is a joint venture between the company behind Geek Fuel and the YouTube Channel VSauce, which is admittedly cool. So, without further ado, let's get into what sets apart a Loot Crate from a Curiosity Box and determine which is right for you.
WHAT'S THE SAME
On the surface, Loot Crate and The Curiosity Box seem similar. They arrive in big cardboard boxes and contain random items. Well, not precisely random; each box focuses on a different theme, and the items provided center around that theme. While a lot of geeks subscribe to these boxes for various bits of swag, perhaps the biggest draw is the exclusives. The companies behind these subscription services make deals with other firms to create unique pieces of merchandise that are literally impossible to find anywhere else, aftermarket/marked up eBay sales notwithstanding. Some of these exclusives are just color variants of readily available products, such as a glow in the dark Funko POP Groot figure and orange Quantum Mechanix Tribble.
Most exclusives, however, aren't available elsewhere in any other form and include items like the The Walking Dead art print, the Yeti temporary tattoo, the tower of magnetic rings, and "collectible" pins.
Furthermore, while most exclusives are decorative, some are practical items, such as a pen shaped like the Sledge Saw from Dead Rising 3 and light-up beverage coasters with periodic symbols.
Finally, these subscription boxes have some of the most awesome, exclusive, geeky shirts this side of ThinkGeek or Hot Topic.
The exclusive items tend to be the best pieces of merchandise in each box and are usually worth the price of the subscription alone. Usually.
WHAT'S DIFFERENT
Let's get this out of the way: the most obvious differences are the prices and subscription models. Loot Crate Classic is about $20 per box and comes once a month, while The Curiosity Box is well over $50 and arrives once every three months. More importantly, these boxes are designed for two completely different audiences. The Loot Crate (and likely by extension Geek Fuel) is aimed primarily at adults or older teenagers and provides geek-related decorations and practical items, such as the Dead Rising 3 pen, Star Wars and Deadpool fridge magnets, and a Mega Man car air freshener.
Also, Loot Crate tends to include non-exclusive products that are part of a series. Case in point, during my brief stint with Loot Crate, I received (among other things) a Kidrobot Glow in the Dark Ooze Action Teenage Mutant Ninja Turtle vinyl figure and a Funko ReAction Alien figure. I got Donatello and the titular Alien, respectively, but I easily could have found Leonardo or Ripley in my Loot Crate subscriptions instead. However, since The Curiosity Box is almost exclusively made up of exclusive items, there is no element of randomness and everyone receives the same merchandise.
While Loot Crate caters to the video game, movies, comics, television, and everything pop-culture side of geekdom, The Curiosity Box is more science oriented and is designed for the family. For example, parents who bought the Summer 2017 Curiosity Box got to enjoy a t-shirt, a set of periodic table beverage coasters, a magnetic ring tower, a t-shirt, and a Nikola Tesla (as a sloth) enamel pin, while children will have fun with a temporary tattoo, a unique embroidered sticker patch, a solar system wall decal and poster set, a mobile microscope, and a castle cross-sections book. Finally, the Summer 2017 Curiosity Box came with the Universe Sandbox 2 Steam game, which is fun for all ages.
Since each Loot Crate and Curiosity Box contains new themes and items, you might find the contents of one particular box more to your liking than another. For example, one Curiosity Box contained a "grow your own glow in the dark crystals" kit, while another included a plush of The Curiosity Box's mascot, the orange octopus Inq. Meanwhile, past Loot Crates have contained a Batman mug, a Doom Marine Funko POP figure, and the One-Punch Man manga.
While I only have personal experience with Loot Crate and The Curiosity Box, they are not your only options for subscription boxes. Geek Fuel is another decent mystery box, and it has come with its fair share of good products, including a South Park: The Fractured But Whole shirt, a Loony Toons Kidrobot blind box vinyl figure, and an exclusive Legend of Zelda pixel sword power bank. While I cannot recommend the Loot Crate, Curiosity Box, or Geek Fuel (or other) subscription boxes enough, you should research each to know what you should expect from these services. Sure, you technically can't know what to expect since each box is supposed to be a mystery, but look into each specific subscription and figure out which one is right for you. Which do you think tends to have the best exclusives? Which box caters to your interests? These questions are important and will severely impact your enjoyment. Of course, luck also plays a big role, but that's also part of the fun.
Google Drive will Shut Down in 2018
It seems like yesterday when Google introduced Google Drive 5 years ago. Back then, people didn't have a good grasp about what Cloud Storage did. Nowadays, there are many Cloud Storage services that it's only a matter of preference to choose one for your file keeping needs. However, what struck me as an oddity was how Google Drive will pull their Google Drive service come 2018.
That's right, Google Drive will completely shut down on March 12, 2018. With the software no longer being supported on December 11, 2017. People will have several warnings about this, for now, so they will have plenty of chance to switch to the new version of Drive, Backup and Sync.
This new program is basically a combination of the features between Google Drive and Photos. It's readily available now for Windows and OSX systems and will be the new host for the Cloud storage. Alternatively, users can get a hold of Drive File Stream, which will become available on September 26, 2017.
The core differences between DFS and BaS come when you compare how they help customers. As shown in the image below:
A day without Google Drive.
It seems like users will have their first experience without Drive today though. Because as of this morning, the service was down for many users who constantly used the GSuit app. According to the independent site Downdetector, more than 7,000 users are experiencing issues with the service. This has been going on since 10:04 AM EDT, but the number of reports has been lowering afterward. You can check the stats here.
It's a shame to see Google Drive go. To be frank, it was my preferred Cloud Storage option besides MEGA. However, it's not a huge inconvenience considering they are not shutting down a Cloud Storage service altogether. So we at least have that.