Tech4U Ares Review: A Great Budget Phone
When it comes to smartphones, Tech4u may sound a bit alienating for some of enthusiasts. However, from the research I've done regarding the company, they have been around for quite a while.
When I hunted for a new budget smartphone to have lying around because my old phone wasn't going to work any longer. I'll admit I was a bit skeptical once I saw the announcement of the phone in the Online Marketplace I was purchasing it.
Once I got the phone with me, I found out that this phone is actually a great alternative for people who are in the same situation as I am. With a cost of $100 USD (Or $1,900 MXN), I found this phone to meet a lot of the standards I had.
Dissecting the inner Workings of the Ares.
Let's start with the juicy stuff right off the bat for the techies out there. This phone has the Android 6.0 Marshmallow Operative System. With the major features that come with it such as the Memory Manager and the capability of turning your SD Card into Internal Memory.
Of course, we also can't forget to mention the capabilities of adding messages to the lockscreen, App-by-App Battery optimization and a more refined Volume Control system. This version of the OS is a modified version specifically built for this phone model.
The reason why this is a thing comes down to the rest of the phone's specifications. This phone has a Quad-Core processor that runs at 1.3 Ghz with 1 GB of RAM. In other words, a lot of base apps had to be cut-off (Minus the Essentials) in order to have this modified OS run properly.
I can say, however, that some of the functions that were cut off won't really have an impact on the User Experience. This phone also has a QHD 5.5'' LCD Screen and an Internal Storage capacity of 8 GB. It's exactly what you'd expect from a budget phone like this.
Of course, once we head outside of the phone, we'll see that some of the features make up for some of the phone's lacking features. Even without knowing about the Camera picture quality this phone's internal storage capacity is actually better than most Budget Smartphones.
This also expands upon the capabilities of the External Memory. This phone can expand its External Storage capacity up to 32GB (As far as I could test, however I estimate it has a 128 GB Memory Cap), which isn't all too shabby.
The Best Picture Quality on a Sturdy Phone.
This phone's design reminds me a lot of the iPhone 7 for some reason or another. Maybe it's because it has the Home button on the bottom-center part of the screen. This phone also has removable cases which allow easy access to the battery.
The battery is a Li-ion rechargeable battery. The type of battery this phone has the benefit of using a 2,500 mAh battery. I have tested the battery throughout various environments and saw that this baby lasts quite a long time without charging.
The camera isn't too shabby either, this phone has a 13mpx back camera with a 5mpx frontal camera. It seems like the major focus on the phone's build was the camera and battery as they are the most prominent features of this budget smartphone.
The picture you see above is a picture I took with the Tech4U Ares on a recent trip to Santo Domingo in Oaxaca, Mexico. Just look at the beauty of the cathedral and tell me if this phone is a marvel to look at.
Another great thing to mention is the capability of surviving tough situations. I am not afraid of admitting I am quite clumsy sometimes and drop my phone from 5'' of height. However, the worst thing that's happened to the phone in these drops were a few scrapes.
Ares is certainly durable and can take some punishment. The battery and camera are also quite useful and this phone is pretty much a good budget smartphone to stick around with. But, how does it perform?
Start from Scratch and Go Somewhere New.
Once you boot the Tech4U Ares for the first time. You will see that a lot of default apps (Especially Facebook, Twitter and other social network apps that usually come pre-installed) are gone. Of course, this is a better experience for people who want to start from scratch.
Without having to worry about any sort of preinstalled apps. You can use those 8GB of Internal Storage Capacity to the full extent. Whether you want to use them with apps or use it for storing multiple sorts of data is completely up to you.
Even though the phone is under the recommended specifications for an Android 6.0 Marshmallow build. I haven't experienced the slightest amount of slowdown in all the time I've been using it.
However, the GPS does make the Processor reach overheating temperatures quickly. It's a big concern especially when using apps like Google Maps and its Live Tracking feature. I wouldn't suggest using this phone to get from point A to point B.
Regarding Gaming, I tested a few apps on the phone with varying results. Some apps make the processor overheat while some others run flawlessly with little to no problem at all.
The World Ends With You –SOLO REMIX- and BlazBlue: Revolution Reburning are the best examples of fast performance.  For some reason games like TETRIS and others actually are harder on the processor than anything else. Probably because of the ads displayed on them.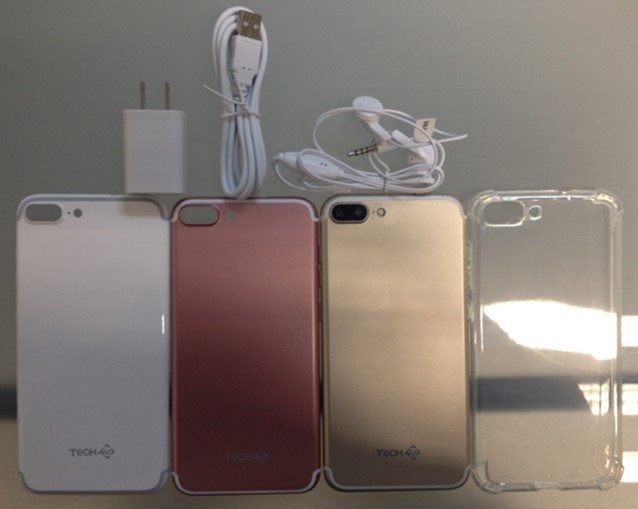 Concusion: A Great Budget Phone.
I have been using this phone for about 2 months now. And I'll say that the Tech4U Ares is one of the best choices regarding the budget Smartphone lineup. The Android OS doesn't feel intrusive to the end user and It's still an attractive offer.
As far as I could tell, this phone's firmware also doesn't throw viruses at me and in performance it has exceeded my expectations. I must say that for $100 USD it's a great phone to be using in the case of an emergency break in your main phone.
Now, I am going to say that in regards to specifications some users might be thrown off. Especially when it comes to the RAM and Processor, some of the most important components in a phone.
However, I feel like the rest of the phones qualities make up for the defects it has. The batter life is impressive, the OS doesn't slow down and the Camera takes great quality pictures. It's an all-around complete phone that should set the standard for future budget phone builds.
If Not Already Clear, Elder Scrolls 6 Will Skip PlayStation
Despite Microsoft's acquisition of Bethesda, The Elder Scrolls 6 was not confirmed as an Xbox exclusive a few months ago. This happened because Xbox executive Phil Spencer indicated that target platforms hadn't been selected yet, but it always felt like he was talking about the game being years away rather than the RPG being on PlayStation.
If you're still holding out, Microsoft plans to release The Elder Scrolls 6 just on Xbox and PC. Documents from the company's FTC lawsuit were recently released. In the document, Bethesda's announced titles (both as a publisher and developer) are listed, and The Elder Scrolls 6 is listed for Xbox, PC, and nothing else.
We expected this, but The Elder Scrolls 6 was announced before Microsoft acquired its developer. The Elder Scrolls is a beloved franchise that's been on various platforms for generations, so this isn't Starfield.
However, the game isn't due until 2026 at the earliest, according to the paper, and who knows what the gaming landscape will be like then.
Xbox Nearly Flashed Warner Bros Cash, Sees Nintendo as Holy Grail
Xbox CEO Phil Spencer's mid-2020 dystopian email suggests the business was interested in buying Warner Bros Interactive and Bethesda. Even more alarming, the CEO calls buying Nintendo a "career moment" and "good for both companies" — and there are even rumors that Microsoft was interested in Valve.
While Spencer warns that acquiring Nintendo would be "hostile action" but "playing the long game", the unprecedented corporate convergence is shockingly casual. He added: "Nintendo is taking a long time to realize their future is off their hardware. A long time… He even ended the chat with a smiling emoji to make it look more evil.
Spencer claims that Warner Bros Interactive was "gettable" when Microsoft was rumored to acquire it. He adds that "we wouldn't own any of the IP which hurts long-term flexibility". Because most Warner Bros Interactive developers work on franchises like Batman, Harry Potter, and others, the studios are worth little without the brands.
The email is over three years old, but it reveals Microsoft's blasé approach to acquisitions and its goals. While its eventual acquisition of Activision Blizzard may have changed its plans, this leaked exchange suggests that Microsoft will not stop until it has absorbed as much of the industry as possible, even targeting Nintendo.
Stig Asmussen Leaving Respawn for Galaxies Unknown
Jedi: Fallen Order and Jedi: Survivor director Stig Asmussen is leaving Respawn Entertainment for unknown reasons. Asmussen had planned a trilogy for Cal Kestis, but it appears another author will need to write it.
Bloomberg reports that an EA spokesperson said: "Stig Asmussen has left Respawn to pursue other adventures, and we wish him the best. Veteran Respawn leaders will lead Star Wars Jedi: Survivor."
This move is surprising, but Asmussen leaves on a high note. Jedi: Survivor is a great game despite its performance issues, which is rare for a Star Wars game. We'll see where Asmussen goes, but we're excited.