Doki Doki Literature Club, by God, what an amazing and underdeveloped game from the guys at Team Salvato. I have been wanting to talk about this gem since the moment it released but annoyingly enough, some unforeseen circumstances have prevented me from talking about it.
However, that only brings more time to put some research into this product. Not only that, but I managed to find some help in the form of Kara Dennison, a writer from Crunchyroll who also has been wanting to talk about this piece in horror fiction.
To describe Doki Doki Literature Club, we have to talk about the premise of the game itself. This game takes the premise of a Dating Simulator gone haywire and pretty much has fun with it. For the audiences who don't know this, this is a horror game under the guise of a dating simulator.
Unsurprisingly, this isn't the first time a horror game has masqueraded as a Dating Sim — since the two genres are so different, people will want to find ways to combine them. An earlier example is Kimi to Kanojo to Kanojo no Koi (shortened by fans to Totono).
This is a Nitro+ eroge in which one of your two possible partners remembers all your previous playthroughs. And when she sees that you're going to the other available girl, she lets you — the player — know exactly how she feels about that.
This also has been a formula that has been attempted by games like the infamous Luna Game series. These games have concepts such as files required to gain access to features and meta-horror. In short, there is no shortage of horror games that have taken the Doki Doki Literature Club approach.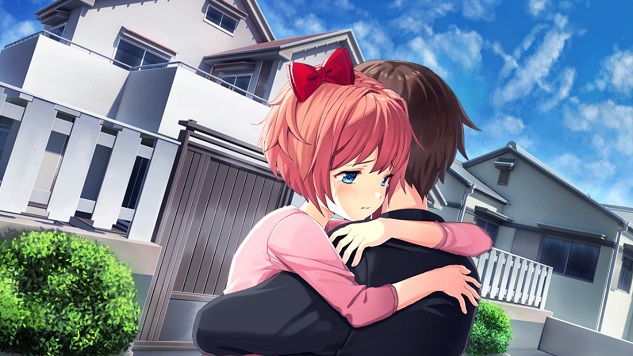 After-School Lessons
That said, Doki Doki Literature Club makes use of all these elements together — meta-gaming, file finagling, and psychological horror — to make a point about the genre it exists in.
It forces the player to think harder than usual about what playing a Dating Sim really means. And, in the end, it encourages you to go against the typical Dating Sim play style in order to access the game's hard-to-reach "happy ending."
With a strong constitution, you can play the whole experience beginning to end in about 4-5 hours and get the basic message Dan Salvato hoped to convey. But everything the game has to offer takes experimentation and exploration.
This doesn't mean that the adventure is all conveyed "Within the game". As the meta approach suggests, Doki Doki Literature Club also makes use of the player going above and beyond to mess with the very game they are playing to get hints about what to do.
The easiest example of this is the fact that one of the game's characters — Monika — talks to the player about their self-awareness regarding how she's a game character. So, the obvious question players would ask is "If that's the case, then I could just delete Monika's file from the beginning and play the game like normal, right?".
Despite Doki Doki Literature Club being a comparatively short play, there are plenty of save slots, and you'll want to use them. It's not just about saving and coming back; the programming is extremely clever, and the game tracks everything you do.
Even if something disappears on your side, the game remembers. So even if something happens to your save files during the course of the game, your progress will still exist. And speaking of your progress, you'll want to keep an eye on the log. It's a helpful place to look if you think things aren't going quite as they should.
Thinking outside the Box
However, to reach all the secrets in the puzzle box of this game, you'll have to get a bit inventive. Your answers start, as mentioned before, in the Character files. There's a lot more to them than just saving and deleting them.
From a purely technical standpoint (you know, the actual programming), the .chr files only serve a purpose as far as the game recognizing whether they're in the folder or not. They don't hold actual character data. They do hold something, though!
Once I found out that the character files were formatted in a familiar fashion, I started messing around with them to see if I could come up with some kind of breakthrough. After doing some tinkering, I found out that Yuri's character file had a word-by-word paste of Dan Salvato's first ever Creepypasta!
The other .chr files take a bit more work to decode, and what they lead to is still something of a mystery. Changing Natsuki's file to a .jpg and undoing some filters reveals some creepy character art of a young woman never seen in the main game.
Changing Sayori's to a .ogg makes for some strange noises, but look at the sound file and you get a QR code that takes you to this odd site. And once you've done about a dozen passes on Monika's file, you get a mysterious but inspiring note.
Are they hints to a future Team Salvato game? Or a hidden subplot to Doki Doki Literature Club itself? Fans are still trying to figure that out. Although, that doesn't mean that the guys at Team Salvato aren't going to jab at their fans every once in awhile. And I don't mean DDLC fans.
Doki Doki Dating Tips
All that aside — how do you win your favorite girl?
Well, that's just it. The most important aspect of this Dating Sim is to not treat it like a Dating Sim. Doing that will lead you down the more straightforward path, which is the "main" ending but not the best you can get.
To get the best ending possible, you have to put aside all your conceptions of how Dating Sims are meant to be played. You may be used to lavishing your attention on one person and saying all the right things to make her like you. But that gets messy after a while.
We won't give away specifically what you have to do, but we'll give you a couple of big hints. First, listen to what Sayori says she hopes you'll do when you join the club. She tells you right away how to get the best ending. You just have to pay attention.
Second, listen to everyone! Yuri likes dark and esoteric works. Natsuki likes cute things. But there's something else they both want. And it fits pretty closely with what Sayori's hoping.
Finally? Be ready to put in a lot of time and a lot of saves. Because it's a time-consuming route. However, while the destination is the good ending, there are still some things that can happen during the journey to said ending.
The Journey in a Twisted World
Looking for more ways to uncover the secrets of Doki Doki Literature Club? The ones mentioned before take work, but there are a few that are pretty easy to stumble across.
One big one? When the game pushes you one way, go the other. Well, try, anyway. Whether you'll actually succeed at any given time is up in the air. This could be a literal or metaphorical "push." Just try to go against it. See what happens.
Look at the back wall. No, really. Just check it. See how it's looking.
Even if you're on a roll, quit the game and come back to it. This won't really have a major effect until you're into your second playthrough. But sometimes you get a surprise at the beginning. (Even we don't know them all — at least once a week, someone seems to find a new one!)
Once you get the chance to talk to Monika for more than a few seconds at a time, let her ramble a bit. She has some interesting insights on high school life, being a vegetarian, and (of course) the nature of Dating Sims. Oh, and she'll give you her Twitter name, too!
By the way, let's address the elephant in the room for any horror game: jump scares. A lot of people don't like them. In fact, our visiting Crunchyroll writer suffers from epilepsy and anxiety. So she really doesn't like them.
Doki Doki Literature Club has only three real "beats" you could call jumpscares: entering Sayori's room the second time, reading Natsuki's second poem in the second playthrough if you're attempting her route, and another if you stream the game while talking to Monika. They're handled a bit less harshly than other games — more surprise than jumpscare — but your mileage may vary.
The main problem with these things is that sometimes, Jumpscares can become quite intrusive and definitely Not Fun. And it's not like I am scared of them, I barely even flinch, but the problem is that these are annoying and often break up the immersion. It's a problem that even Night Mind came across in a much more aggressive way in his review of SIMULACRA.
Conclusion: The Literature Club Ends This Session
There you have it, folks, some nice tips, and advice to consider during your future Doki Doki Literature Club adventures. This is a game that pretty much stands out on its own accord and can make a great creepypasta story coming to reality.
It's not without its flaws, being a game that's too short for starters but the overall atmosphere the game has going for it sure makes the experience worth it. If you'd like to experience it for yourself, you can grab it absolutely free on Steam.
And if you enjoy the game, consider supporting Team Salvato so they can make more cool stuff! There's a fan pack on Steam for $9.99, and an online store with keychains and posters of all the girls.
I'd like to end this Opinion piece by giving major thanks to my fellow Crunchyroll reporter, Kara Dennison. Without her help, this article wouldn't have been as deep to make the game justice. You can read her articles by clicking right here and follow her Twitter as well. With that said, the club is dismissed, see y'all tomorrow!