Yesterday, an unfortunate event happened that shook the gaming community. Wichita, Kansas resident Andrew Finch was murdered by police during a swatting incident thanks to a prankster. This happened after a $2-dollar wager fight between two guys named Miruhcle and Baperize respectively.
The police showed up to Mr. Finch's house under the pretense of a homicide and hostage situation. One of the officers then shot (It's unclear if it was accidental) Mr. Finch after he answered the door. The man was later pronounced dead, and the officers found no sign of any hostages or homicide.
Troy Livingston, sub-chief of police made a statement on a press conference that was transmitted through Facebook. In it, the policeman talked about the investigation surrounding the pranksters and the process that led up to the death of the 28-year-old Andrew Finch.
The victim's mother stated that she was angry at the officer – identified as a seven-year veteran of the department – who shot his son due to a false report and the prankster who made the aforementioned report held responsible for the incident.
The officer responsible for the shooting has since been placed on administrative leave pending an internal investigation. In other words, he's going to face the fact that  he murdered an innocent man. It seemed like this was all the police was able to do.
However, the Los Angeles Police turned out to have some good news. They got the low-life scumbag responsible for the swatting incident. This imbecile's name is Tyler Barriss and he's a 25-year-old good for nothing Call of Duty player.
The LA Police Department also confirmed that this thing was responsible of a fake bomb threat. In other words, he's a repeat offender. What appalls me is the nerve this scumbag had to say that he was innocent of the crime in a series of tweets. Check below if you want to see something truly sickening: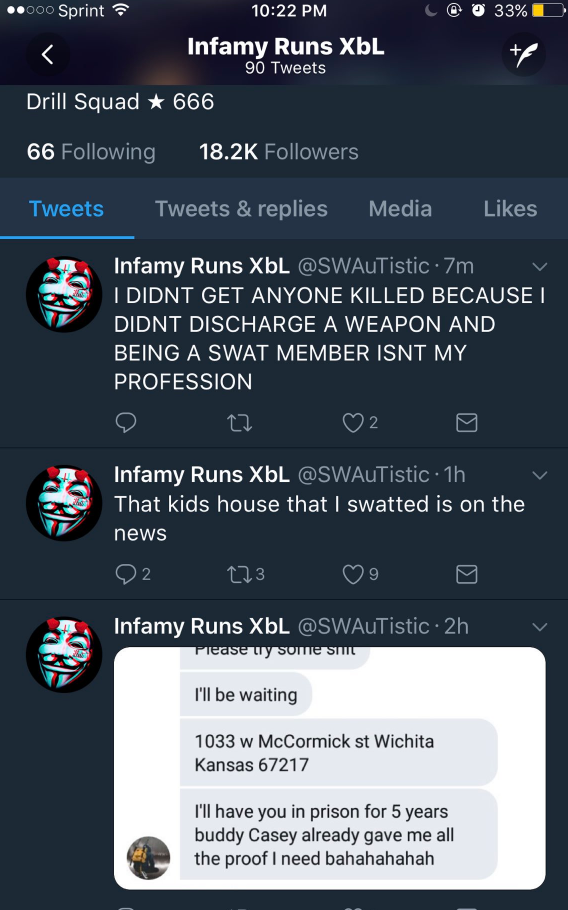 There are no details about the sentence (Suggestion: Life) that Barriss will be facing. However, there are a lot of charges that he's going to be facing in the near future. Meanwhile, if you want to support the Finch family, a GoFundMe campaign to help pay the funerary costs of Mr. Andrew Finch has showed up. Show some support towards the Finch family.