Dead Rising 2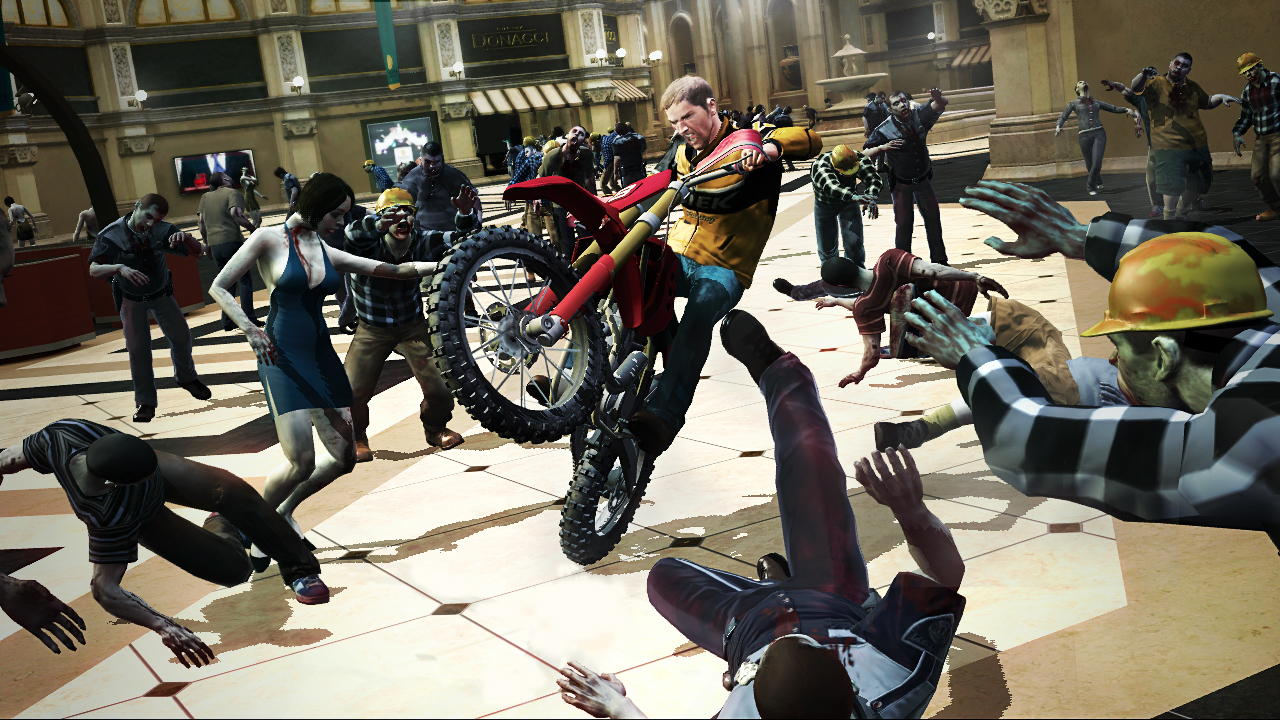 The original Dead Rising made a name for itself by being the first zombie game to allow you to bash their heads in with a gum ball game. The sequel took this premise and turned it up to eleven, with the innovative combo weapon system. Mixing a Bowie Knife with a pair of boxing gloves has never been so satisfying.
Day Z
Ok, so its technically a mod of ARMA 2 but to be fair it has a stand along version on steam so we're going to count it. Day Z is that game that looks extremely fun to play when you're watching some YouTuber strip helpless noobs of their newly acquired gear but then you realize you're the person who's going to get robbed. Once you get set up in the game it can be a real joy to play. The best thing about this game though is that the zombies aren't even the biggest threat, it's the horrible person sitting behind a monitor waiting to steal a 12 year old's only set of clothing.
Left 4 Dead 2
The Left 4 Dead is known for some of the best Co-op that gaming has to offer. The sequel carried over all of the best things from the original without any of the bad. A new arsenal of weapons are at your disposal to help you survive the horde. New zombie types also await making the versus mode even more interesting. Valve also went ahead and decided to add all of the campaigns from the original game into this one through DLC giving you even more options play.
Resident Evil 2
While some may say the original is the best in the series I beg to differ. With this installment we were introduced to Leon Kennedy (my personal favorite protagonist.) Who doesn't want to root for the rookie cop who's just having a bad day. This was also our first chance to actually see Raccoon City up and close.
The Last of Us
The Last of Us was one of the best games to come out of the last generation, maybe even ever. With a brutal, honest and well told story that is among the best in gaming, how can anyone not adore this game. The combat, while not as polished as say Gears Of War, suits the style of the game. When a hunter is bum rushing you because he realized your low on ammo, the loose aiming can make those moments seem even more real. This game is without a doubt the best zombie game to ever be released.
Blizzard is developing two Diablo 4 expansions
Diablo 4's post-launch support will keep you playing for years, according to Blizzard. General manager Rod Fergusson confirmed two expansions and free content updates.
"As I sit here, we're about to launch the main game; we're finishing up season one; we're working on season two; we're working on expansion one; we're kicking off expansion two," he told PC Gamer on the Kinda Funny Xcast. These two DLCs may release sooner than expected. Fergusson says the live service model lets Blizzard release content faster than Diablo III.
With tens of hours of content in the base game, Diablo 4 is massive. This could be Destiny 2 or Genshin Impact, with seasons and DLC. That thought excites or frightens you. Leave a comment and check out our Diablo 4 guide for help with the PS5 and PS4 games.
RoboCop: Rogue City PS5 Gameplay in 20 Seconds
RoboCop: Rogue City features agonizing one-liners and a darkly humorous picture of a future that demands justice. GameSpot posted a preview of the game.
While the gameplay doesn't look particularly exciting, the visual intrigues us. RoboCop is the perfect video game protagonist, so we'll keep an eye on this one.
September brings RoboCop: Rogue City to Old Detroit. How's it going? Are you intrigued?
Phantom Blade Zero's unfathomably ambitious PS5 game won't have microtransactions