Some people are content to express their love of video games by just plain playing, but others want to take that love one step further by purchasing video game merchandise. However, some are easily overwhelmed by the amount of merchandise available. Well, don't fret, young grasshopper, because I'm here to introduce you to the wide world of video game merchandise. This is by no means a complete list, as it would be impossible to include every single piece of merchandise ever, but at the very least I can give you a good idea of stuff you might never have known existed.
Toys
Toys are probably the first thing that springs to mind when people think of "video game merchandise," and for good reason, since video game-related toys have been around for a long time. Toys comes in all shapes and sizes (and prices). Tomy and Jakks Pacific toys are inexpensive, designed for children, and have limited or no articulation. Meanwhile, NECA, Figma, McFarlane, Revoltech, and S.H.Figuarts toys are far pricier, highly poseable without sacrificing detail, and come with "Not for ages 15 and under" warning labels. And then there's 3A, with its massive and beautiful $180-$300 toys. Google is your friends when it comes to searching for video game toys; you usually can find what you want on Amazon, but I also recommend BigBadToyStore.com.
Plush
Much like toys, plushes come in a wide variety shapes and prices from an equally wide variety of makers, including people who sell on Etsy. Unlike toys, however, plushes are almost exclusively for children with very few exceptions; one of which is the absolutely gigantic (and pricey) Snorlax plush that doubles as a bean bag chair. Or is it a bean bag chair that doubles as a plush? Regardless, plushes are an excellent gift for your burgeoning little Pokemon Trainer, Monster Hunter, or Freddy Fazbear's Nighttime Security Guard.
Toys to life
Toys to life are unique, because they wouldn't exist without video games. Toys to life are a weird combination of toys — mostly statuettes — and video game DLC. While statuettes of video game characters aren't anything new, toys to life actually have a function within their video games, specifically unlocking certain characters. These toys are usually a gamer's first introduction to a character, and in order to play as that characters in games such as Lego Dimensions and Skylanders, gamers have to buy a specific toys to life figure. This is at odds with most other video game toys, as those are bought out of an attachment to the characters. However, some toys to life change the formula, as Nintendo's Amiibos unlock features instead of characters; Lego Dimensions toys are actual Legos that are compatible with other Lego sets, and the Lightseekers toys customize playstyles within the free Lightseekers: Awakening mobile app. Oh, and unlike other toys to life toys, Lego Dimensions and Lightseekers toys are actually poseable.
Prop Replicas
These aren't your son's Nerf guns; these are expensive, life-size props you either proudly display in your house (or work space) or use to complete your cosplay costume. These replicas tend to be weapons or items used by video game characters and include guns, swords, helmets, and other iconic items. Prop replicas are some of the priciest and rarest pieces of video game merchandise on the planet, usually limited to several hundred or thousand copies. Consider yourself lucky if you manage to find and buy one. Of course, if what you're looking for isn't available on NECA or ThinkGeek, you can always shop on Etsy, or better yet, find a 3D model of a prop replica and print it with a 3D printer. And then paint it, of course.
Statues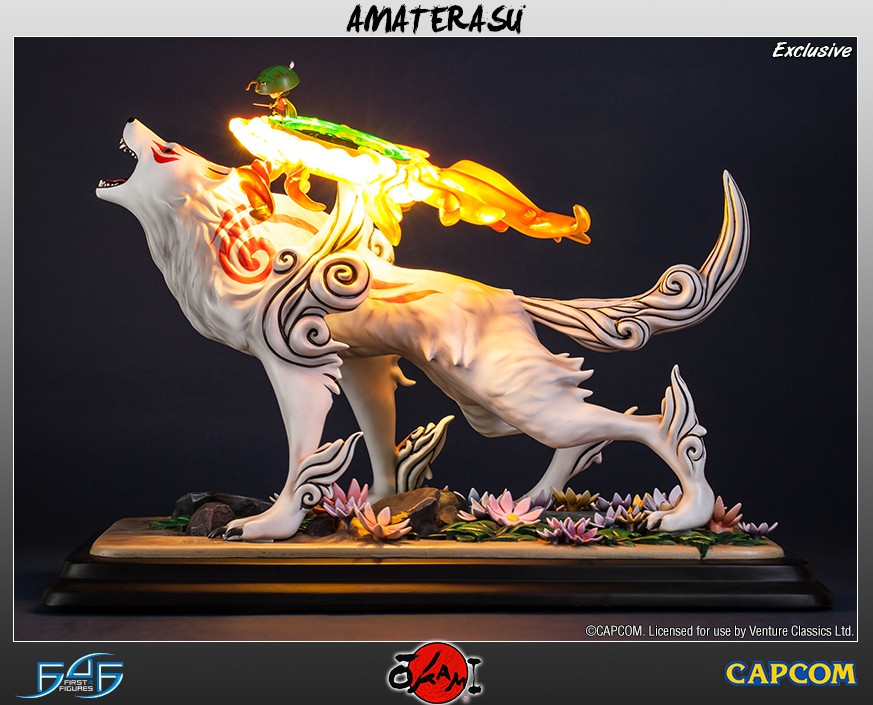 I know I said prop replicas are rare and expensive, but they've got nothing on statues. Statues are to be displayed in a place of prominence and are considered centerpieces of collections. An ungodly amount of time and effort goes into making these statues, and as such they are arguably the coolest pieces of video game merchandise on the planet. However, they also cost an ungodly amount of money and are extremely limited in availability; if you don't find that one statue you're looking for, you're sadly SOL. Such is the power and attraction of a statue of a video game character. However, some statues are relatively cheap, but remember that you get what you pay for; don't expect the quality of Dark Horse Comics' $40 Geralt of Rivia statue to be anywhere near the quality of Sideshow Collectibles' $770 Geralt of Rivia statue.
Clothes and Accessories
Clothes and accessories are probably the most common of all video game merchandise. Video game-inspired clothes and accessories include t-shirts, hoodies, hats, underwear, backpacks, watches, and so much more. Video game clothes and accessories are not only practical, but they are eye-catching to boot. Whether you want a t-shirt that proudly displays your preferred type of starting Pokemon or a backpack that looks like a shield from World of Warcraft, you can usually find what you're looking for somewhere. Start your search at ThinkGeek or Hot Topic and continue from there with Google.
Soundtrack
A soundtrack can either make or break a video game, and sometimes the songs are just as iconic as the characters and locations. When that is the case, buying a soundtrack of the game is downright necessary. Video game soundtracks usually come in a digital format but are also available on CDs and, in very special cases, vinyl records. Nothing says "video gamer" like rocking out some classic DOOM tunes during a road trip.
Books
Some consider books to be the antithesis of video games, but that doesn't stop books from being based on video games. The most obvious kind of video game book is a strategy guide, but guides are not the only books available. Plenty of novels, comics, and graphic novels are written to help strengthen the lore of the game's world, but if those don't tickle your fancy, you can always buy an art book. I personally love looking at the the concept art used in the development of a game, examining how the characters, enemies, and environments evolved throughout the development process, and imagining what could have been if one design had been used over another.
Board Game
You can't play a video game when the power's out, but you can play a board game based on a video game. Some of these board games do their best to ape the mechanics of the video game they are based on (The Witcher Adventure Game, World of Warcraft); others add their own touches and gameplay mechanics (DOOM, Dark Souls), and a few are just the same old video games you grew up with but with redesigned game pieces and maps (Mass Effect Risk, Legend of Zelda Monopoly). As always, Google is your best friend, but if you want to buy a board game, I highly recommend visiting your local comic or hobby shop first; you might find what you want in stock and meet some people interested in playing the game with you.
Furniture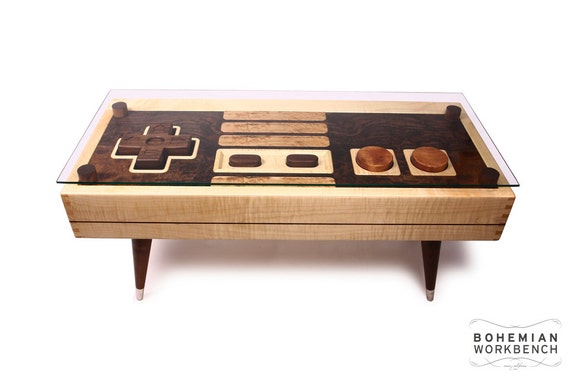 Well now, isn't this a weird bit of video game merchandise? Think of a piece of furniture. Go ahead, think of one. I can guarantee you someone, somewhere, made a video game-inspired version of that furniture. Space Invaders sofas, Donkey Kong bookshelves, Pac-Man ottomans, and an NES controller-shaped table that doubles as a fully-functional NES controller are just a few examples of what people have created. Sure, most of these furniture items are expensive as hell and are made-to-order from sites such as Etsy, but ask yourself one question: wouldn't it be worth it to own a toaster that looks like an NES console?
Tchotchkes
Tchotchke
noun
A knicknack or trinket
In other words, a tchotcke is a catch-all term for small, inexpensive objects. Tchotchkes include those Call of Duty Dog Tags every GameStop has in its bargain bin, as well as the Five Nights at Freddy's keychains and pencil toppers on sale at Target. Tchotchkes also include those small, vinyl, blind box figures from Funko, Kidrobot, and Titan Merchandise. If it can fit in your pocket and costs around $10 or less, it's a tchotchke.
I am sure I missed quite a few examples of video game merchandise, but that's where you come in. As I have pointed out numerous times, do your own research, and you will find plenty of items you will love and make you say that you're proud to be a gamer.
Early Launch of Diablo 4 PS5, PS4 Has License Issues
Blizzard couldn't expect it to be flawless, could they? The Ultimate Edition's four days of early access to Diablo 4 on PS5 and PS4 has caused many license errors. Blizzard may not be able to fix Sony's issue, which is preventing them from playing.
"We are seeing reports regarding PlayStation users experiencing Invalid License errors," community manager PezRadar writes. We're investigating and will update." PC and Xbox Series X|S, Xbox One players have been able to play since the game launched less than an hour ago, suggesting a Sony flaw.
Only the Ultimate Edition of Diablo 4 has early access, with the full launch on June 6, 2023. After accessing Diablo 4, consult our guide. Do you have licensing issues like PS5, PS4 players?
Ubisoft's E3-Style Livestream Is Worth Watching
A new sizzle reel promises gameplay for games we've been waiting for at Ubsoft's annual Forward showcase on June 12 at 10 am PT / 6 pm BST. Expect live updates on Avatar: Frontiers of Pandora, Assassin's Creed Mirage, and The Crew Motorfest during the French publisher's spotlight.
Publisher showcases are now commonplace. Over the next week and a half, we'll be eating well as E3 announces exciting video games.
Ubisoft's Forward event—what are you hoping to see?
The PS5 and PS4 narrative adventures The Expanse revives Telltale Games
The Expanse: A Telltale Series will release its first five episodes on PS5 and PS4 on July 27. New gameplay footage was released in a trailer.
This isn't the original Telltale team, which imploded two years ago in a twist many saw coming. Deck Nine and LCG Entertainment are developing and publishing The Expanse, a hermit-crabbing game.
If you missed that hot moment when we were swimming in episodic narrative content, your chance is coming. The Expanse: A Telltale Series: your thoughts? Try this doppelganger?