You don't like PlayerUnknown's Battlegrounds? You wish to rather play Fortnite or not play a Battle Royale game at all? Well, then you should keep yourself away from this Ransomware virus that will literally force you to play PUBG if you want your computer back.
The name of this malware is PUBG Ransomware. Unlike other pieces of ransomware that are after cryptocurrency, this malware wants people to just play a game. Yes, there are viruses that are that asinine in regards to their demands. So, this virus was discovered by MalwareHunterTeam and later reported on by Bleeping Computer. Basically, when the computer is infected by the ransomware the software will encrypt the computer's files until the user plays PlayerUnknown's Battlegrounds for an hour.
Don't worry though, this is not such a malignant virus as it seems. Malware experts have confirmed that, while the ransomware does lock and encrypt files, it only does so for whatever is in the affected user's desktop. Not only that but the virus also unlocks them after three minutes of playing PlayerUnknown's Battlegrounds rather than the aforementioned hour. So, you pretty much have to last the equivalent of a match where you get headshot instantly to get your files back.
It's incredible that there's a ransomware that demands users to play a game. However, there are other workarounds like the fact you are provided the decryption key right away in the same program. So, it's really not that complicated to get rid of this virus.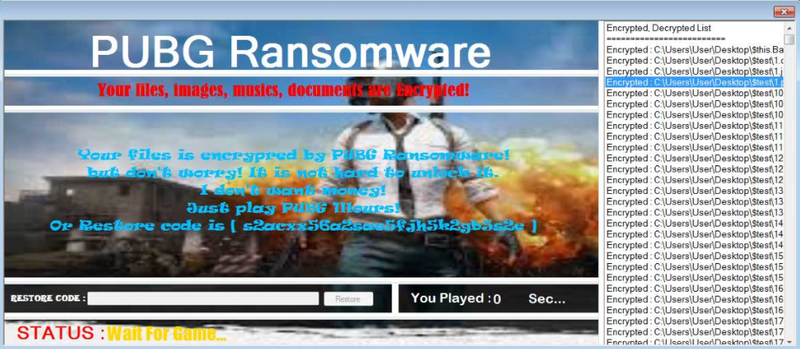 Maybe this is a joke virus or something? I mean, considering the layout of the window that does the demands it's most likely. Maybe it's a piece of ransomware that's currently under construction and will become more threatening. Who knows?