This Ransomware Forces you To Play PUBG
You don't like PlayerUnknown's Battlegrounds? You wish to rather play Fortnite or not play a Battle Royale game at all? Well, then you should keep yourself away from this Ransomware virus that will literally force you to play PUBG if you want your computer back.
The name of this malware is PUBG Ransomware. Unlike other pieces of ransomware that are after cryptocurrency, this malware wants people to just play a game. Yes, there are viruses that are that asinine in regards to their demands. So, this virus was discovered by MalwareHunterTeam and later reported on by Bleeping Computer. Basically, when the computer is infected by the ransomware the software will encrypt the computer's files until the user plays PlayerUnknown's Battlegrounds for an hour.
Don't worry though, this is not such a malignant virus as it seems. Malware experts have confirmed that, while the ransomware does lock and encrypt files, it only does so for whatever is in the affected user's desktop. Not only that but the virus also unlocks them after three minutes of playing PlayerUnknown's Battlegrounds rather than the aforementioned hour. So, you pretty much have to last the equivalent of a match where you get headshot instantly to get your files back.
It's incredible that there's a ransomware that demands users to play a game. However, there are other workarounds like the fact you are provided the decryption key right away in the same program. So, it's really not that complicated to get rid of this virus.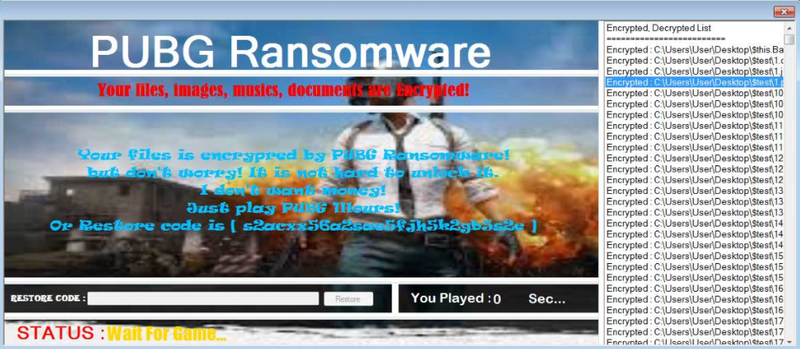 Maybe this is a joke virus or something? I mean, considering the layout of the window that does the demands it's most likely. Maybe it's a piece of ransomware that's currently under construction and will become more threatening. Who knows?
Early Launch of Diablo 4 PS5, PS4 Has License Issues
Blizzard couldn't expect it to be flawless, could they? The Ultimate Edition's four days of early access to Diablo 4 on PS5 and PS4 has caused many license errors. Blizzard may not be able to fix Sony's issue, which is preventing them from playing.
"We are seeing reports regarding PlayStation users experiencing Invalid License errors," community manager PezRadar writes. We're investigating and will update." PC and Xbox Series X|S, Xbox One players have been able to play since the game launched less than an hour ago, suggesting a Sony flaw.
Only the Ultimate Edition of Diablo 4 has early access, with the full launch on June 6, 2023. After accessing Diablo 4, consult our guide. Do you have licensing issues like PS5, PS4 players?
Ubisoft's E3-Style Livestream Is Worth Watching
A new sizzle reel promises gameplay for games we've been waiting for at Ubsoft's annual Forward showcase on June 12 at 10 am PT / 6 pm BST. Expect live updates on Avatar: Frontiers of Pandora, Assassin's Creed Mirage, and The Crew Motorfest during the French publisher's spotlight.
Publisher showcases are now commonplace. Over the next week and a half, we'll be eating well as E3 announces exciting video games.
Ubisoft's Forward event—what are you hoping to see?
The PS5 and PS4 narrative adventures The Expanse revives Telltale Games
The Expanse: A Telltale Series will release its first five episodes on PS5 and PS4 on July 27. New gameplay footage was released in a trailer.
This isn't the original Telltale team, which imploded two years ago in a twist many saw coming. Deck Nine and LCG Entertainment are developing and publishing The Expanse, a hermit-crabbing game.
If you missed that hot moment when we were swimming in episodic narrative content, your chance is coming. The Expanse: A Telltale Series: your thoughts? Try this doppelganger?