This is a bit of a different article in regards to gaming and ARG's, or Alternate Reality Games. The beauty of these is how much they can bring a community of people together, even people who don't know much about the subject. This is no better shown than in the current ARG for No Man's Sky, dubbed Waking Titan.
What is Waking Titan?
I took the liberty to have an interview with some staff members and community veterans of Gamedetectives.net and gather their opinions about how much this ARG has done in the grounds of bringing a community together. Gamers and puzzle solvers alike. Some of them without even being No Man's Sky fanatics! The general audiences need to know what the project is however. And the gamedetectives had this to say.
Waking Titan is a wide-scale ARG that is connected Hello Game's game 'No Man's Sky'. The ARG is being put on by the infamous Alice & Smith company, best known for The Black Watchmen.
It started out with trying to connect this ARG to NMS, but since it has been confirmed that this ARG is connected to NMS, we are trying to solve it to figure out what it all means. – Inetro, Community Member
To pull from our wiki page, the ultimate purpose of this is a mystery. It's clearly connected to No Man's Sky, but as for how and what it's leading to, that's up in the air.
There was mention at near the end of Phase 1, earlier this month, that input from this will "pave the way toward new experiences in version 1.3 of a familiar universe." So presumably this is leading to a major update in NMS. – Lucario, GD Staff
The difficulty of the puzzles
ARG's are mostly about the experience. The players need to be engaged in the adventure they are going to take. The puzzles are one of the most intricate selling points of this kind of projects. Since there are a lot of people who are in it just for them, they have to be difficult to a certain degree but the community also needs to be included.
There are some puzzles that can only be solved collaboratively; for instance, players have had to meet up with Waking Titan agents in person to collect packages from them and solve puzzles.  additionally, we're currently in a phase where we need 1000+ players to complete a specific puzzle-related task.
These types of interesting, collaborative puzzles are where the difficulty of ARG's generally lies (although some of the normal puzzles are hard as nails, make no mistake!) – Crash, GD Staff.
On the puzzles I was actively involved I'd consider most of them of medium difficulty, obviously not that easy but also not too hard. What happens with the puzzles is that they keep bombarding us with info that are not related or are dead ends.
For example, we wasted days over days trying to unglitch some permanently corrupted images, which couldn't be fixed, but when you have that as a clue, you think that it is a lead for something. – gregkwaste, Community Member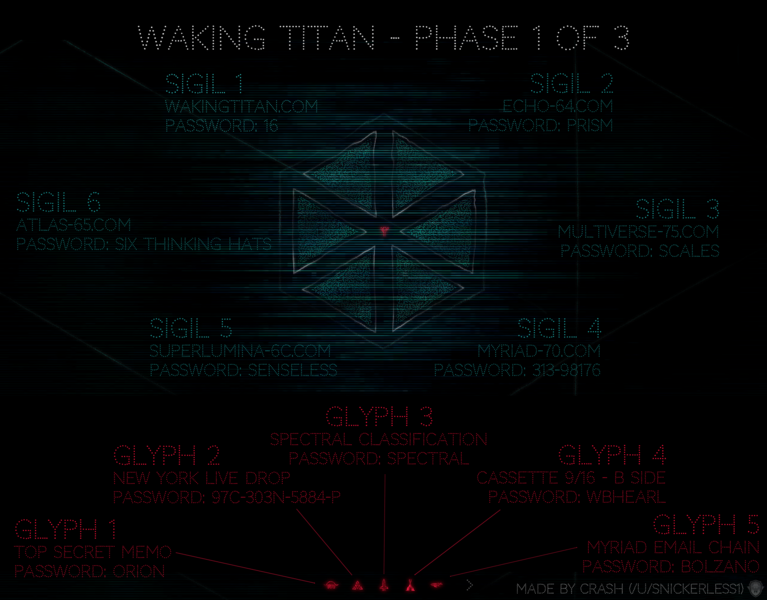 Player involvement in the ARG
In regards of how much player involvement there is in regards of the level of knowledge players need to get? Well, this isn't a simple task that small groups can solve. ARG's (Especially one as big as Waking Titan) require a lot of dedication from seasoned users and companions.
There were puzzles that required players to visit a specific real-world location at a certain time, as well as the collaborative puzzles where you need lots of people to do something.  the amount of people certainly speeds things up.  I have no idea if we'd have made it this far with a smaller group– Crash, GD Staff
Everyone manages to provide their own help in their own ways so I would say yeah, they have certainly helped out. And a smaller group could probably have gotten this far as well but the whole theme of this arg seems to want to have a more global reach so really having the bigger group does help in the long run as well. Especially with some of the recent puzzles require real world photos in 40 different cities. Smaller group might have more trouble with that. – Bruteforce, GD Staff
Is the project too big for No Man's Sky?
Of course, one of the reasons people are skeptical about the ARG as a whole would be the sour note fans got from the first days of the game's launch. In the end, Sean Murray's mention became very infamous in the Internet due to the amount of misnconceptions and lies about the game's content. Community members and GD Staff had some very intelligent opinions in regards to this.
As a mod tool developer, I've argued about that a million times. NMS is a special kind of game, IT IS NOT FOR EVERYONE. It is a chilling game, it was advertised like that above all else + some gameplay features. Now those additional features were not exactly as promised and the release was a complete disaster. But here is the thing, it was thought a disaster because those people got the game for the features and not the space exploration experience.
The ARG by itself has nothing to do with it in my opinion. Even if this turns out to be the best ARG ever existed, still the backbone is a game. If the game doesn't get better, the ARG is meaningless, so as I said before, they better have a solid plan with 1.3 and any upcoming updates. – gregkwaste, Community Member
Ok so, not everyone agrees with me on this one, but I think it's a great project to drum up interest in the game. It is probably fanfare for an update, yes. But on top of that, so many more people are interested in the game now because of this.
They actually gave out game keys to random players of the ARG (myself included)! So I'd imagine they're aiming more at new players than veterans of the game, but I'm sure the update itself is planned to please both groups. – Lucario, GD Staff
Is this project enough to recommend No Man's Sky?
Some players from either side will argue about whether or not this project should be used as something to recommend the Hello Games title for the general public. An update can't certainly get so much hype behind it right?. The GD Staff and community offered their input for the matter.
Things seem to be pointing to maybe there being a 4th race getting added, there's other stuff about there could some sort of multiplayer getting added. I was certainly disappointed when I heard about how NMS turned out when it was released but the ARG has kinda peaked my interest in the lore anyways. Whether it'll get me to pick up the game we will have to see as it depends what lies at the end of all this. I think it all is going to come down to the individual if they think this makes up for the past or not. – Bruteforce, GD Staff
Some people might be happy with an update and them making amends for the past, but I'm sure there are some people who will always hate and dislike NMS. – Lucario, GD Staff
No Man's Sky isn't for everyone, but the company behind it care more than we may think. And if this ARG is anything like what they are cooking up in their offices, then we may see some very surprising things coming from Hello Games – Inetro, Community member
Conclusion. The Beauty of an ambitious project.
The best way to describe Waking Titan is an ARG experience like none ever seen before. I have seen a lot of ARG's I'm interested about and I can certainly say that Waking Titan has made a lot of its players think. From the sheer amount of detail and love the puzzles have into them, to the amount of dedication players need to get. This certainly is an Alternate Reality game like nothing else.
As stated before, the backbone of the entire project is a video game. But there are many other projects like this that have different subjects and other kinds of things going for it. This is certainly one of the best ways to do these things and probably the future of entertainment through interactive crafty media