Welcome to part four. This is my list of the most tragic comic book characters. If you are just joining please read my introduction. If you're not just joining… carry on. Warning there are major SPOILERS for both the novel and film of Watchmen. Read at your own risk.
Alan Moore's seminal graphic novel Watchmen was a very different comic book. It tells one complete story with a beginning, middle and end, and it's known for its incredible character development.
Rorschach is undoubtedly the most popular character from Watchmen. He is also the dictionary definition of 'ruined childhood'. Born Walter Kovacs, Rorschach saw things in his childhood that children just plain are not meant to see. His mother being a prostitute whose clients beat him is probably a good place to start.
His mother's profession and the bullying that stemmed from it was probably a large part of what caused Rorschach to slide into insanity, but when he finally engaged in a brutal fight with a bully and seriously injured them it prompted authorities to look into his living situation.
In 1964, at the age of 24, Kovac's learns of the rape and murder of Kitty Genovese (a real life person who was murdered, an example of Watchmen's acclaim for bringing its story into reality). Disgusted by the indifference so many people held, he became Rorschach.
Ten years pass and Rorschach is investigating the disappearance of a little girl, when Rorschach investigated the house of the suspect he found the little girl had been killed and fed to the murderers dogs. This is what finally snaps Rorschach into the dark ruthless vigilante that we see who no longer allows criminals to live. He kills the murderer by burning him and his house to the ground.
What adds more to this character is that these events prevent him from seeing things in shades of grey; he only knows that there is right and wrong, and will not acknowledge anything in between. There is only black and white, symbolised by the mask that has become Rorschach's true face.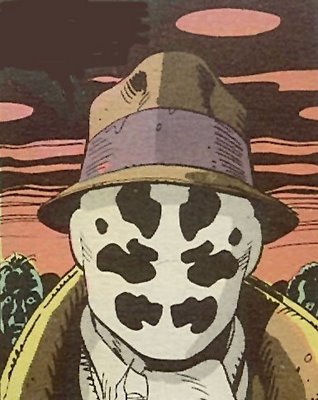 Previous Entry
Next Entry