11 Most Tragic Comic Characters | Rorschach
Welcome to part four. This is my list of the most tragic comic book characters. If you are just joining please read my introduction. If you're not just joining… carry on. Warning there are major SPOILERS for both the novel and film of Watchmen. Read at your own risk.
Alan Moore's seminal graphic novel Watchmen was a very different comic book. It tells one complete story with a beginning, middle and end, and it's known for its incredible character development.
Rorschach is undoubtedly the most popular character from Watchmen. He is also the dictionary definition of 'ruined childhood'. Born Walter Kovacs, Rorschach saw things in his childhood that children just plain are not meant to see. His mother being a prostitute whose clients beat him is probably a good place to start.
His mother's profession and the bullying that stemmed from it was probably a large part of what caused Rorschach to slide into insanity, but when he finally engaged in a brutal fight with a bully and seriously injured them it prompted authorities to look into his living situation.
In 1964, at the age of 24, Kovac's learns of the rape and murder of Kitty Genovese (a real life person who was murdered, an example of Watchmen's acclaim for bringing its story into reality). Disgusted by the indifference so many people held, he became Rorschach.
Ten years pass and Rorschach is investigating the disappearance of a little girl, when Rorschach investigated the house of the suspect he found the little girl had been killed and fed to the murderers dogs. This is what finally snaps Rorschach into the dark ruthless vigilante that we see who no longer allows criminals to live. He kills the murderer by burning him and his house to the ground.
What adds more to this character is that these events prevent him from seeing things in shades of grey; he only knows that there is right and wrong, and will not acknowledge anything in between. There is only black and white, symbolised by the mask that has become Rorschach's true face.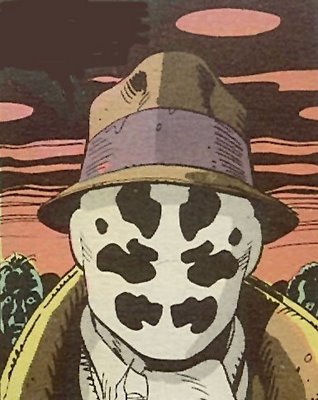 Previous Entry
Next Entry
Syphon Filter on PlayStation Plus Premium: Dark Mirror and Ape Academy 2 Have Awards
Even though trophy support for older games on PS Plus Premium isn't always great, you can always count on Sony's first-party games to have it.If you like collecting these digital trinkets, you're in luck, because today's big PlayStation Plus update includes two classic games that can now be used to earn Trophies.
Each trophy list for Ape Academy 2 and Syphon Filter: Dark Mirror includes the platinum cherry on top. You can look at their respective listings here and here if you're interested.
The list for Dark Mirror appears to be quite simple—you can basically earn them all by finishing the game. The trophies in Ape Academy 2 appear to be a little more complicated, requiring you to complete particular objectives in card battles and advance to specified rankings. Nonetheless, it doesn't seem too difficult, so we're looking at a couple of quite simple platinums.
Ridge Racer: Type 4 is this month's other premium classic game; sadly, it does not offer trophies. But it makes up for it by being a complete banger.
However, will you be obtaining some of these trophies with a nostalgic flavor?
Beautiful New Book Teaches About the Art of Horizon Forbidden West
This year, Sony produced some truly outstanding work, releasing four high-profile games on the PS5 and PS4 (not to mention the numerous PC ports). The earliest of these, Horizon Forbidden West, arrived in February of 2022 and got the year off to a strong start. One of Aloy's sophomore journey's greatest strengths, among the many other things we like about it, is its excellent art direction. The Art of Horizon Forbidden West allows you to now delve deeply into the game's visuals.
This coffee table book, which was published by Dark Horse Books, contains 200 pages of concept art and developer commentary. It provides an inside look at the process used to develop engaging characters and settings, and Forbidden West is certainly not lacking in either.
There will be two editions of the book: standard and deluxe. Both are hardback books, with the deluxe edition having pages with metallic edges and a unique slipcase. These are now up for pre-order and will go on sale on April 25, 2023.
Details and gameplay for The Witcher 3 PS5 Version will be released on December 14th
Bloody hell, it took a while, but The Witcher 3: Wild Hunt's long-awaited PS5 release date has been announced. The updated role-playing game will go on sale on December 14th, and CD Projekt Red reiterates that PS4 owners can get a free PS5 upgrade.
The "next-gen" game will have a physical edition at a later, as of yet unspecified time.
The next-gen update for The Witcher 3: Wild Hunt is coming on December 14th, free for everyone who already owns the game.

For more details and gameplay reveal, tune in to REDstreams next week on https://t.co/IpFERTohi9. pic.twitter.com/fg3yfGeNih

— The Witcher (@witchergame) November 14, 2022
Though we still lack specific information about what the current-gen version will offer, don't worry; it appears that all of our most pressing questions will be resolved soon. Next week, the developer says, will feature a livestream that will feature gameplay and more details. Hence, something to anticipate.
But in all honesty, we're just relieved that this PS5 edition won't be delayed any further. Will you play through The Witcher 3 again right before Christmas? Post your thoughts in the section below.