CCleaner has been Distributing Malware for a Month
A big incident regarding web security and viruses has been showing its ugly head. This time by the hands of the well-known Disk Cleaner tool CCleaner. Version 5.33 of the CCleaner app offered for download between August 15 and September 12 was modified to include the Floxif malware, according to a report published by Cisco Talos.
The Floxif malware is a malware downloader that gathers information about infected systems and sends it back to its C&C server. This malware put a lot of machines that had the program at risk of having their data leaked. But it needed to have administrator permissions to run properly, otherwise it would shut itself down.
The malware collected information such as computer name, a list of installed software, a list of running processes, MAC addresses for the first three network interfaces, and unique IDs to identify each computer in part. Researchers noted that the malware only ran on 32-bit systems, while 64 bit systems were in the clear.
The people at Cisco Talos found the problem while running tests their latest exploit detection technology. They found out that CCleaner 5.33 was making calls to suspicious domains. This would usually happen if the circumstances were those of pirated software. But the CCleaner installer was downloaded from the official website and was signed using a valid digital certificate. Below you can see how the virus worked: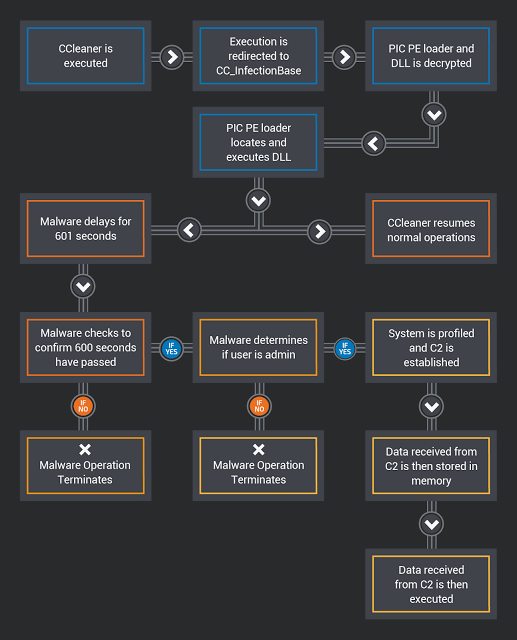 The theory currently states that a threat actor might have compromised Avast's supply chain and used its digital certificate to replace the legitimate CCleaner v5.33 app on its website with one that also contained the Floxif trojan. However, by the time of this writing nothing has been confirmed on the issue.
"Before delving into the technical details, let me say that the threat has now been resolved in the sense that the rogue server is down, other potential servers are out of the control of the attacker, and we're moving all existing CCleaner v5.33.6162 users to the latest version." Said Paul Yung, VP of Products in an Official post. "In other words, to the best of our knowledge, we were able to disarm the threat before it was able to do any harm."
In an e-Mail provided to Bleeping Computer, Avast CTO Ondrej Vlcek mentioned that updating to the latest version of CCleaner and CCleaner Cloud version will delete the Rogue malware. "The only malware to remove is the one embedded in the CCleaner binary itself. There is no indication or evidence that any additional "malware" has been delivered through the backdoor"
This seems to be a threat that came up and died, but the people reading this article must remember that this has been happening for a month. It's important to update the CCleaner apps to the latest versions and also to constantly scan with your Antivirus of preference for threats.
Google appeared as a car manufacturer
Google has recently used CES as a platform to present its philosophy of "Better Together," the notion that all devices should get along with one another. Typically, this entails making announcements regarding new Cast compatibility and features like Fast Pair. The business revealed that it is collaborating with Spotify to incorporate the Connect streaming capability into the Android UI at CES 2023. Additionally, it showed a sneak peek at an audio handoff tool that would recommend various devices to shift your music to based on your preferences and location.
However, CES is a significant vehicle event, and Google also sells items for cars. Additionally, it said today that the Polestar 3 would receive its higher-resolution maps, and it debuted the most recent Android Auto user interface for the first time since it was revealed at I/O 2022.
Two vehicles, a Volvo EX90 with Google preinstalled and a BMW i7 with the new Android Auto experience, were at the Google stand in the trailer lot of the Las Vegas Convention Center. We had never seen the Volvo before, and we'll be posting a separate hands-on on that experience shortly. The new Android Auto is the main topic of this article and video.
The redesigned interface will support larger screen sizes and have a split screen layout, as we discovered at I/O. Google has eliminated the status bar and inserted a row of shortcut keys below it, along with some indication icons in a small area to the top left. When we were in the car, the Spotify app was located on the left panel, and we could access a list of suggested playlists by swiping in from the right side.
Alerts that you won't have time to respond to while driving are likewise stored in this left pane. For instance, you can swipe right on a notification to move it to the dock, where it will wait until you're ready to deal with it.
Check out the video up top for more of our experience with the updated Android Auto in the BMW i7! And be sure to pay attention this week as there will be a ton of news at CES 2023.
Apple Mini-LED Display Supplier Reports Decreasing Demand As Rumors Suggest a Switch to OLED in the Next Few Years
One of Apple's top mini-LED suppliers claims that while the company plans to switch to OLED displays for its iPad and MacBook line in the upcoming years, demand for displays in consumer products is declining while demand for mini-LED in other applications is increasing.
According to a recent report from DigiTimes, the demand for mini-LED displays for consumer electronics devices is declining, but it is anticipated that demand for mini-LED displays for dashboards and vehicle displays will increase in 2023. Epistar, which has been supplying mini-LED displays to Apple for some time, is one company that has made this claim.
The creation of particular kinds of OLED screens that Apple intends to utilize in next iPad Pro models, according to a report published last week, is now Samsung's top priority. The first iPad Pro with an OLED panel, which Apple is rumored to introduce in 2024, has prompted mini-LED vendors to consider alternate applications for their screens, according to DigiTimes.
In 2024, Apple is also expected to release a 13-inch MacBook Air with an OLED display in addition to an OLED iPad Pro. According to reputable display analyst Ross Young, Apple is exploring adopting an OLED panel in a planned update to the iPhone SE but is torn between employing an LCD or OLED display.
Apple Provides 10 Practical iPhone Tricks
In an effort to assist customers get the most out of their devices and teach new iPhone users some features and tips they may not have previously known about, Apple recently provided ten helpful tips and techniques for iPhone users.
Apple revealed ten tips and techniques for the new features in iOS 16 in a video on its Apple Support channel, including the ability to choose and lift subjects out of images and the newly revamped and customisable Lock Screen. As people get used to their new iPhones, the short film, which is barely six minutes long, was posted on Christmas Day.
If you tap and hold on a subject inside of a photo in the Photos app on ‌iOS 16‌, you can lift the subject from the photo and place it into another app.
The new Lock Screen on ‌iOS 16‌ allows users to customize different elements, including the color and style of the time and date, add widgets, and more.
Within Settings -> Wi-Fi, you can select a saved Wi-Fi access point to discover and copy and paste its password.
If you often write the same thing time and time again, such as your email or address, you can create a text replacement within Settings -> General -> Keyboard -> Text Replacement.
If you're running low on battery or want to save some battery life when you won't have access to a charger, you can add the Low Power Mode toggle to Control Center for easy access. Head into Settings -> Control Center and add it to the list of Included Controls.
If you want to share or move multiple photos into another app, simply tap and hold on a photo, move it away, and proceed to tap on the other photos. You'll then be able to drag and drop all of the photos into other apps or places in iOS.
If you want to quickly open the camera, tap and hold on the Camera shortcut in the bottom right-hand corner of your ‌iPhone‌'s Lock Screen.
With iOS 15 and later, you can now use Live Text to automatically translate text in the camera app or inside of a photo. In the camera app, point the camera to some text and tap on the Live Text that appears in the right-hand corner, then select translate in the options shown. This can also work for photos already taken in the ‌Photos‌ app.
Using the Notes app, you can easily scan a piece of paper and create a digital copy of it. The Notes app will automatically properly crop and edit the image so the document appears legible with no glare.
If you're curious about what your first photo is in your photo library, you can easily discover it with one tap. In the ‌Photos‌ app, simply tap on the top edge of your ‌iPhone‌ to jump to the first photo in any specific library, album, or search result.