Remember when I briefly mentioned EQUIFAX's odd behavior when I talked about them hiring a Music Major? While EQUIFAX was deciding when to tell consumers about the massive security breach that compromised the personal data of 143 million or so Americans, three executives just happened to sell off some of their stock.
That was a great choice that certainly wouldn't backfire, except it did. Now the U.S. Justice Department has opened a criminal investigation into whether they violated insider trading laws when they sold stock before the company disclosed the hack, as a reward for EQUIFAX's way of thinking.
That's right, EQUIFAX seems like it won't get out of trouble any time soon. Now that the department of justice and multiple people are waving their torches and pitchforks at them.
U.S. prosecutors in Atlanta, who the people said are looking into the share sales, said in a statement they are examining the breach and theft of people's personal information in conjunction with the Federal Bureau of Investigation. The Securities and Exchange Commission is working with prosecutors on the investigation into stock sales, according to another person familiar with the matter.
Let's take a look at the fishy actions they did in a little bit more depth. According to the Bloomberg report, EQUIFAX disclosed earlier this month that it discovered a security breach on July 29. The three executives sold shares worth almost $1.8 million in early August. The company has said the managers didn't know of the breach at the time they sold the shares.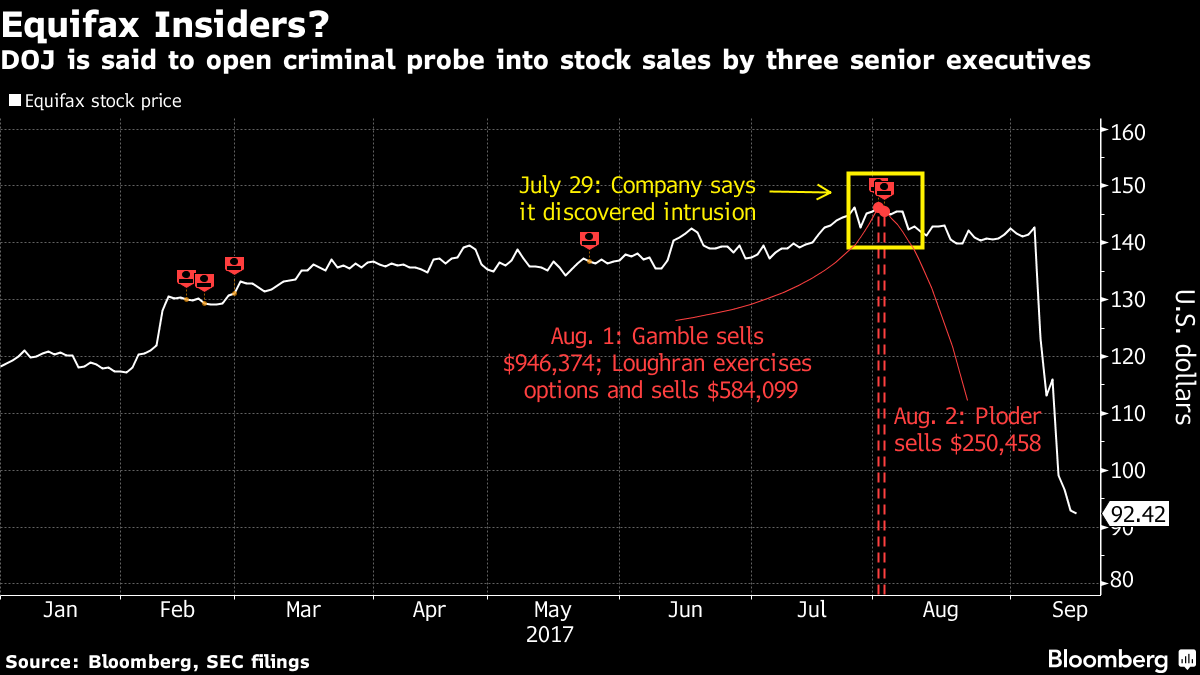 The reason why this is a violation of the law is because when handling Insider Trading. The seller has to be aware of nonpublic information. In other words, the data breach must have been known by EQUIFAX and the companies they were selling the stock to. However, the latter didn't get informed until the incident popped up and their stock started plummeting.
"The U.S. Attorney's Office for the Northern District of Georgia is working with the FBI to conduct a criminal investigation into the Equifax breach and resulting theft of personal information." Said U.S. Attorney John Horn in a statement. Let's hope that the DOJ manages to find the dirt they require to make justice prevail. And I still hope for the best to those affected by one of the biggest Cybersecurity disasters in history.