Samsung's next big thing is apparently really big, and it is the successor of the Galaxy Tab 4, the Galaxy Tab 5. There have been rumors and whispers about the South Korean company prepping a new tablet for our enjoyment this Spring, but this is the first sort of official confirmation that we have of the new device. After a very successful Galaxy S6 and Galaxy S6 Edge launch, it seems like Samsung is ready to hit the next step with the Galaxy Tab 5, a pretty compact, stylish-looking tablet.
The Galaxy Tab 5 was leaked thanks to official certification documents from the Chinese authority TENAA and you can check the photos out below. The photos reveal a sleek design, with thin bezels on the sides and bezels on the thick side on the bottom and top of the device. We still don't get a flash on the Galaxy Tab 5, which is something that bothers me a lot when it comes to tablets, but hey, tablets are not meant for photography anyway. The design also reveals a protruding camera on the Galaxy Tab 5, which suggests that it's going to be a pretty thin device with probably a pretty beefy camera. Moreover, the button placement seems pretty good, although it could have been brought down a little for portrait use.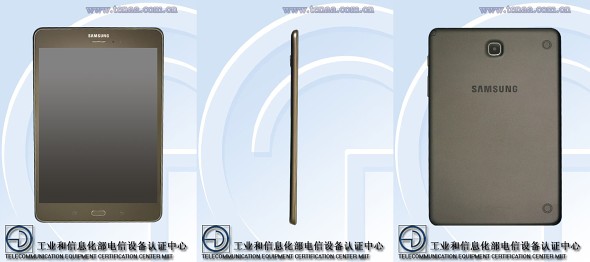 The Galaxy Tab 5 will actually have two variants according to the TENAA certification, and the specs that are listed there aren't that impressive. Although I did ramble a bit about expectations, these expectations need to be considered on the slightly low side. Let me explain: the Galaxy Tab 5 is going come with a nice design, but the display and cameras won't be as impressive as many would have thought. Most likely, the Galaxy Tab 5 tablet will have an 8 inch and a 10 variant, but specs for both aren't clearly listed nor differentiated in the certification documents. What we do seem to find out if we struggle translating a bit, is that resolution will be on the low side for at least one model, around 1024*768, which does not sound really impressive, even for an 8 inch tablet.
Other Galaxy Tab 5 specs that are listed in these documents reveal some quad core CPUs, 2 GB RAM and 16 GB internal storage, no microSD card slot included. There's also mention of a 5 MP main camera and a 2 MP front one and an S Pen accompanying these tablets. Now the fact is that we're not sure that these models actually represent the Galaxy Tab 5 or some other new line-up that Samsung is thinking of releasing, maybe a region-exclusive one. Many were expecting some significant upgrades compared to the Galaxy Tab 4, but these documents do not reveal such improvements. The release date of the Galaxy Tab 5 is said to be around Spring, so May the latest, but take that with a grain of salt. What would you like to see in a Samsung-branded Galaxy Tab 5 tablet?