Back in the good old days of pre-online gaming, two to four people could sit together on a couch and play video games on one screen. However today, we're lucky if video games support split-screen multiplayer, but board games are making a resurgence to pick up the slack. If people want to play their favorite video game with friends, but it either isn't a multiplayer game, or it only supports online multiplayer, odds are they can find a board game based on that game. However, some video games and video game franchises deserve a board game makeover, if only to help older gamers relive the times when they could just play video games with friends by inviting them over to their houses. Here is a list, in no particular order, of six video games that deserve board games. And before I begin, I did not consider existing board game franchises with a special video game theme such as Risk: Mass Effect Galaxy at War Edition or Monopoly: The Legend of Zelda Collector's Edition as board games based on video games, so don't expect me to include Yahtzee: Resident Evil Edition on this list.
Pikmin
Have you ever wanted to lead an army of tiny, color-coordinated plant minions who gladly sacrifice their lives to destroy monsters and gather treasure? Well, oversimplification aside, Pikmin would make a great board game. In a Pikmin board game, players could compete to gather as much treasure as possible with a Pikmin army. In order to do so, players would need to move their Pikmin pieces around a board to gather treasure and recruit more Pikmin, and as in the video game, players would need to strategize which Pikmin should be used in various situations. The game could have a risk vs. reward in the form of a day/night cycle: players could either find shelter at night and keep their Pikmin safe, or they could search for extra-valuable treasure and risk losing most, if not all, their Pikmin to powerful predators. The game would end after a set number of turns, and the player with the most treasure wins.
Super Smash Bros.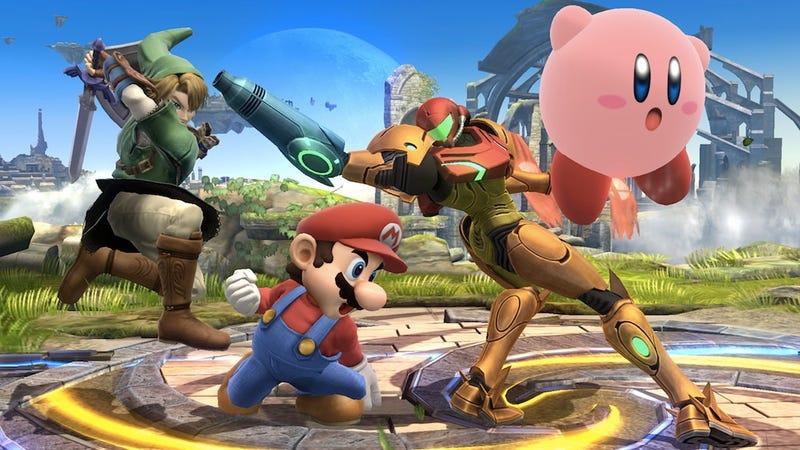 Super Smash Bros. is as much a fighting game as it is a party game, but it also relies heavily on mind games. Self-knowledge  and knowledge of your opponent's abilities are a must, and that's ignoring more advanced tactics such as wall jumping and the inherent randomness of item spawns. Put simply, Super Smash Bros. would make for glorious chaos in board game form, albeit simplified. The board game could be a competitive affair where players try to knock their opponents off of the board. They would need to predict where their opponents will move and use their attacks, probably represented by a deck of cards, wisely. However, a smart player would be more than capable of turning near defeat into victory. Furthermore, this kind of game just begs for amiibos and fan support; you know you always wanted Shovel Knight and Waluigi in Super Smash Bros., and you could with a Super Smash Bros. board game.
Monster Hunter
Monster Hunter is arguably one of the best cooperative video games on the planet. Up to four players hunt one giant monster (sorry Evolve fans, Monster Hunter did it first and did it better) with swords, spears, hammers, explosive barrels, traps, and other items. And yes, they actually have to hunt them. Players don't know where these monsters are, but after many playthroughs, players learn a lot about these creatures, from where they hide to when they're about to breathe fireballs. Most importantly, players learn which extra items work well when hunting specific monsters. A Monster Hunter board game could emphasize the cooperative and preparation aspects of the video game. The game could easily be played with either a fifth player who controls the monster, or a random set of cards and dice rolls could control it instead. In this board game, either the human players would win and earn rewards they could use in the next game session or the monster eats well tonight.
Silent Hill
Konami might have abandoned the Silent Hill franchise, but that doesn't mean we have to. Games such as Mansions of Madness show that even in board games, people love to wander mysterious locales and fight Lovecraftian horrors that turn most men into gibbering, insane wretches. A Silent Hill board game could be played either competitively or cooperatively as people search various tiles to find items, solve puzzles, and fight monsters, all to escape Silent Hill. Depending on how they want to play, people could either keep monsters busy while others solve puzzles, or they could lure other players into traps and escape alone. Once the game enters the Otherworld, new monsters could appear and passageways shift; some unlucky players might even find themselves trapped in a room with no way out. The Silent Hill video games kept players on edge, and so should the Silent Hill board game. Oh, and the player or players who escape first would be the winners; sometimes the best way to escape would be to team up with a player and betray him or her right before the escape, and other time the best way would be to see that teamwork all the way to the end. Again, the game should keep players on their toes.
Fire Emblem
This video game was just made to be a board game. Two (or more) players could have armies of carefully selected character pieces that move around a grid map, attack other character pieces, and use spells to turn the tide of battle. The winner would be the last player standing.  What more needs to be said?
Borderlands
It's a game about looting guns and completing quests; what more could you ask for? Well, plenty. The game could  support up to four players who could either either go it alone or team up to complete missions and win loot. Each character would have his or her (or its) special abilities, but the name of the game is looting guns; these guns would be represented by a big deck of cards, probably the largest deck you've ever seen. Each gun would determine how players fight enemies, both in terms of tactics and efficacy. Each mission would give players loot and points, and the more missions players complete, the more chances they get to draw a super-powerful gun card. Missions would be easier to complete when on a team, but then players would have to split up the points and loot, which would force players to decide whether they think the extra points and loot are worth the extra risk. At the end of the game, the player with the most points would be the winner.
I probably missed a few games on this list. In fact, I know I did. But why should I be the only one here who gets to brainstorm on what video games should be turned into board games and how they should be played? Comment down below and tell me what video games you want to turn into board games.