There's no debate at this point in time. Video games are the greatest entertainment medium in the last few years. After just a few decades of being the provider of fun and entertainment. The gaming industry has grown up and become a magnificent entity that now can be a way of life for many. Professional gamers, game journalists and streamers have become relevant and the industry continues moving forward.
Who plays video games? Which genre is most popular?
The video game market is mostly localized in two regions, Japan and United States of America. The latter was the subject of study of the Paw Research Center. Which started to determine the variety of players in the country through a survey.
Let's start with gender, Paw Research Center showed that men are the people who play video games the most. With seven-in-ten men younger than 30 (72%) say they play video games often or sometimes, compared with 49% of women in the same age group.
You might also be interested to know that gaming time is also varied according to education. College graduates (36%) are significantly less likely to play than adults with some college experience (50%). While people who did not attend college (42%) saying they actually play video games. You'll be surprised to know as well that adults who work part/full time (47%) are as likely as the people who are unemployed/Looking for work (43%).
In regards to the popular game genres, the Paw Research Center mentioned that Strategy and Puzzle games are dominant. About six-in-ten adults who say they play video games often or sometimes report that they typically play these types of games (62% each).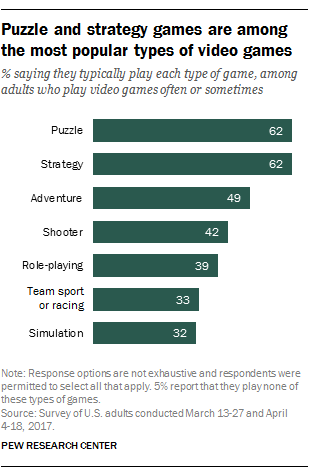 Other genres such as adventure, shooter, role-playing, team sport or racing and simulation games are all somewhat less commonly played, with about half of video game players or fewer saying they typically play these types of games.

These are just a few of the many stats the Paw Research Center has provided about gamers. It certainly seems like surprising results and I'm kind of bothered that genres like "Horror" weren't included. We can only hope the gaming industry and community continue to grow like this!

<!-comments-button-->