YouTube Takes Down A Content Creator's Channel Unjustifiedly
YouTube has been going through a very rough patch as of late. The service has been very unfriendly towards Content Creators of various kinds. Namely the ones covering topics such as Horror, True-Crime and Creepy. Some of the affected parties have suffered demonetization and Account Strikes. The worst of it has happened to a channel named Blood, Guts and Social Commentary.
What is Blood, Guts and Social Commentary? I'll allow the channel owner to explain through her Twitter video.
This is what I do and why I do it. Hope to see you soon: https://t.co/Kfv24ITJBq pic.twitter.com/ctPfKmE8Qy

— After Dark Analysis (@AfterDarkAnalys) September 30, 2017
As you can see, the channel dissects the meaning of various aspects of horror and their symbolism towards a general audience. The channel often tackles diverse topics such as Music in Horror Films and Creepy Content in general. However, it seems like as of today. The channel was taken down for very dodgy reasons.
Let's start by the basics, the owner of the channel, Amie Davis-Tobin told GeekReply: "About 2 days ago about 95% of my content was demonetized. Since I've never made money off the channel it wasn't a big deal since 2 videos that had already passed manual review once being flagged again."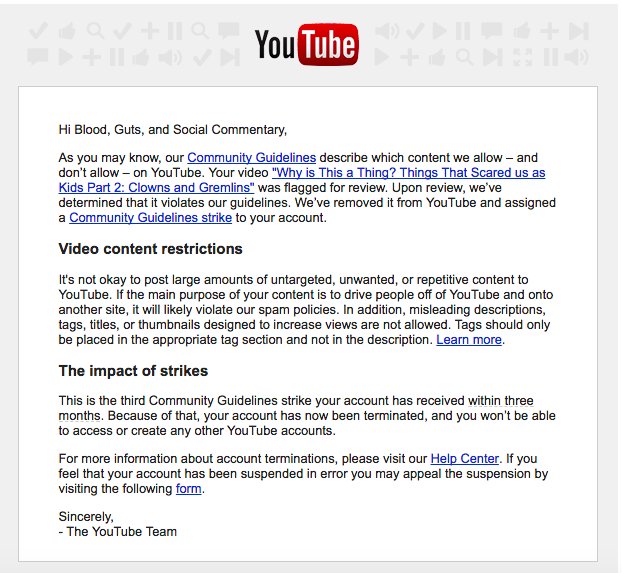 Things quickly took a turn for the worst once Amie found out that her YouTube channel was gone. "I was updating somethings and my video on Puppet Horror was flagged for "community guidelines" (…) When I went to appeal the first two videos, I was locked out of my account." And then she found out that the channel was taken down due to "Violating Community Guidelines".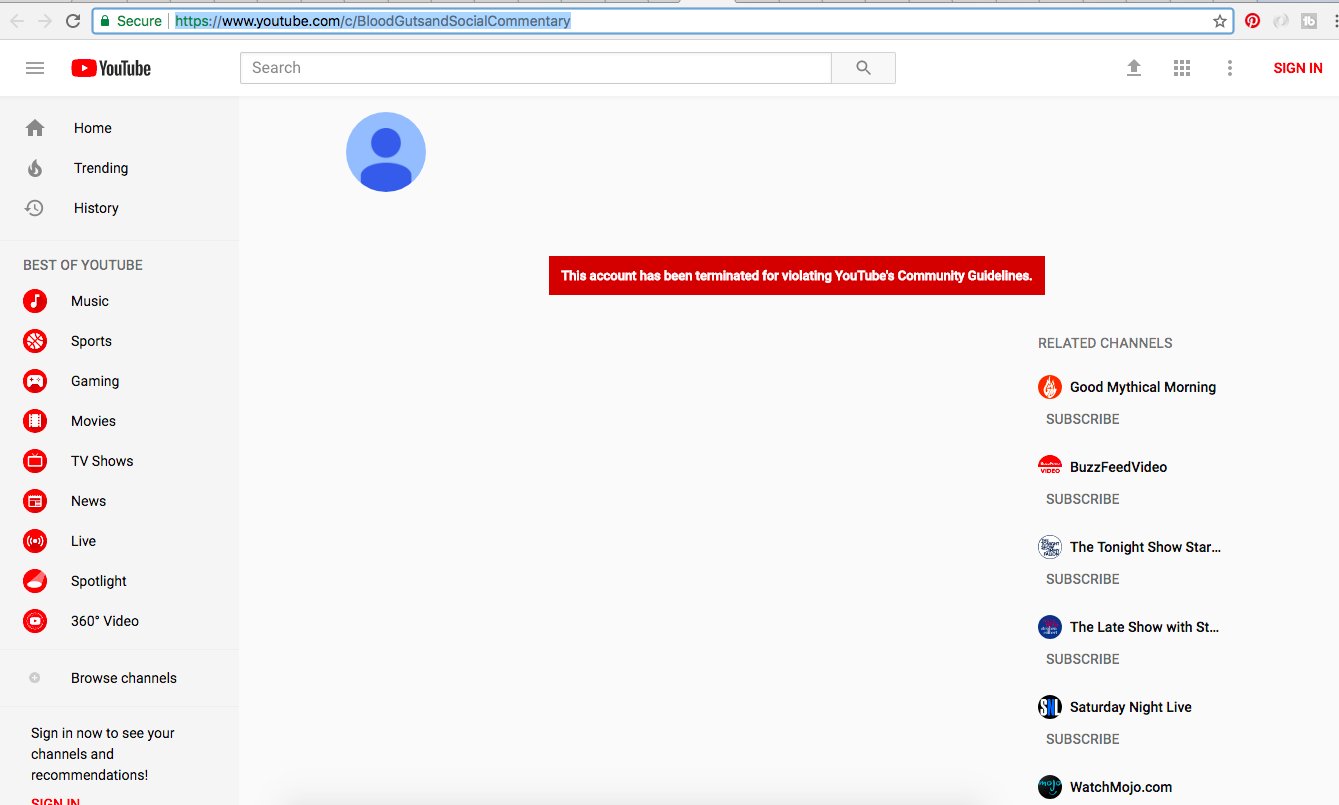 However, the reasons behind the claim seem pretty dodgy in and of themselves. Considering the fact that the videos that have been suffering Strikes are rather innocent in comparison to her other content. "A video I did with the Critical Android was flagged about Music in Horror films. I knew off-hand that one was 100% clean. (…) Another video with Critical Android about things that were unintentionally scary in childhood (pretty popular topic right now) was also flagged."
Ms. Davis doesn't believe that this is YouTube's fault entirely and that this was a decision made because of lack of context. "While I keep videos educational I can see how a quick glance may lead someone to think otherwise. Upon viewing any of those 3 videos though the intent would have become very clear very quickly."
With assistance from other YouTube personalities such as ReignBot, Creepy Elliot, the aforementioned Critical Android and TheGothicLibrarian. The concern has been forwarded towards Team YouTube. However, no response from them has been provided at the time of writing. We should remind the fellow uninformed readers that YouTube has been shown how dodgy they are towards other Content Creators. With a Tweet by Phillip DeFranco who showed a contradicting stance against a charity.
https://twitter.com/PhillyD/status/916132444662751259
Please show your support towards Blood, Guts and Social commentary by following her Twitter page and forwarding this to YouTube. Amie's channel still could be recovered in good standing as soon as possible.
Battle Pass for Crash Team Rumble is not necessary to unlock new characters; the upcoming closed beta
The competitive multiplayer spinoff of Crash Team Rumble, which will be available on both the PlayStation 5 and PlayStation 4, will debut on June 20. A closed beta for the game will be held in the coming weeks, and the good news that character unlocks won't be dependent on Battle Pass progress was just revealed.
Publisher Activision made its intentions very clear in a lengthy blog post, writing, "New heroes and powers will be unlocked through in-game challenges rather than being connected to the Battle Pass because we want every player to have a balanced experience while enjoying the N. Sane fun that Crash Team Rumble has to offer." "For those who wish to get a WUMP on the season's newest looks, Battle Passes will solely reward cosmetic goods; however, cosmetics will still be earnable through participation in seasonal events."
Those who preorder the platformer/battle royale mix can take part in a limited beta between April 20 and 24. For those who want to jump right in, online matches against other players and practice matches versus AI bots will be offered.
How does Crash Team Rumble strike you? Will you participate in the closed beta test?
Indie Not on PlayStation Wins BAFTA Game of the Year, Beating PS5, PS4's Greatest Hits
God of War Ragnarok and Elden Ring were both beaten out for the British Academy of Film and Television Arts (BAFTA) award for Best Game by a tiny little independent title called Vampire Survivors, which isn't even accessible on PlayStation systems. Do you really believe that?
Putting all lightheartedness aside, Vampire Survivors was something of a phenomenon in 2022, and you would have to be living under a rock (or live offline) to have missed it. It burst into prominence and eventually became a favorite among industry insiders. A fiendishly addictive fundamental gameplay loop hides beneath a deceptively simple exterior, earning developer Luca Galante, aka Poncle, this year's BAFTA for Game Design as well as another honor.
Last up it's the award for Best Game. Huge congratulations go to… Vampire Survivors! 🌟🦇🌟#BAFTAGamesAwards pic.twitter.com/nnH9xRQkn1

— BAFTA Games (@BAFTAGames) March 30, 2023
There hasn't been any news of the mega-hit coming to PlayStation as of yet, so there's probably some sort of exclusivity agreement in place or anything else blocking it. Perhaps one day we will be granted access to it, but until then, console yourself with one of the numerous high-end games on our preferred platform, such as The Last of Us, which won Best Game back in 2014.
In slightly related news, Shuhei Yoshida, a PlayStation legend, received a BAFTA Fellowship, the highest honor bestowed by the organization.
What do you think about the Vampire Survivors' victory—do you believe it was well-deserved or totally absurd?
On May 17, Crusader Kings 3: Royal Court Expansion will be available on consoles
While we felt Crusader Kings 3: Console Edition was fantastic when it was launched on the PS5 last year, we were only able to play the base game. We are incredibly grateful that the great Royal Court extension will be coming to consoles. This is a regal proclamation that we could not be more delighted to make.
It's pretty difficult to switch back after you've experienced the conveniences and enhancements that Royal Court offers to the well-stocked table, as anyone who has played Crusader Kings 3 on PC knows. It's not just for show; players will be able to use trophies and priceless pieces of art to adorn their throne room, which adds a minor RPG system to an already magnificently complex adventure.
If you haven't already and like the basic Crusader King's experience, we highly encourage you to give Royal Court a try. This expansion is the ideal reason to jump back in for another round of backroom maneuvering. Are you going to create your own royal court?