YouTube has been going through a very rough patch as of late. The service has been very unfriendly towards Content Creators of various kinds. Namely the ones covering topics such as Horror, True-Crime and Creepy. Some of the affected parties have suffered demonetization and Account Strikes. The worst of it has happened to a channel named Blood, Guts and Social Commentary.
What is Blood, Guts and Social Commentary? I'll allow the channel owner to explain through her Twitter video.
This is what I do and why I do it. Hope to see you soon: https://t.co/Kfv24ITJBq pic.twitter.com/ctPfKmE8Qy

— Blood, Guts, and SC (@bloodgutssc) September 30, 2017
As you can see, the channel dissects the meaning of various aspects of horror and their symbolism towards a general audience. The channel often tackles diverse topics such as Music in Horror Films and Creepy Content in general. However, it seems like as of today. The channel was taken down for very dodgy reasons.
Let's start by the basics, the owner of the channel, Amie Davis-Tobin told GeekReply: "About 2 days ago about 95% of my content was demonetized. Since I've never made money off the channel it wasn't a big deal since 2 videos that had already passed manual review once being flagged again."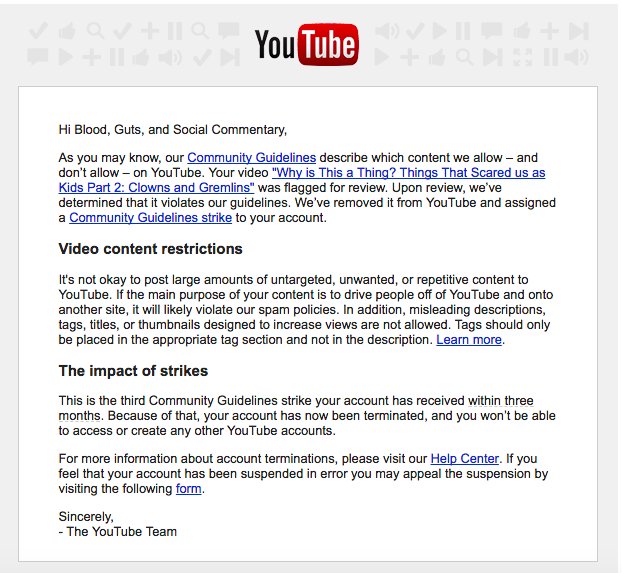 Things quickly took a turn for the worst once Amie found out that her YouTube channel was gone. "I was updating somethings and my video on Puppet Horror was flagged for "community guidelines" (…) When I went to appeal the first two videos, I was locked out of my account." And then she found out that the channel was taken down due to "Violating Community Guidelines".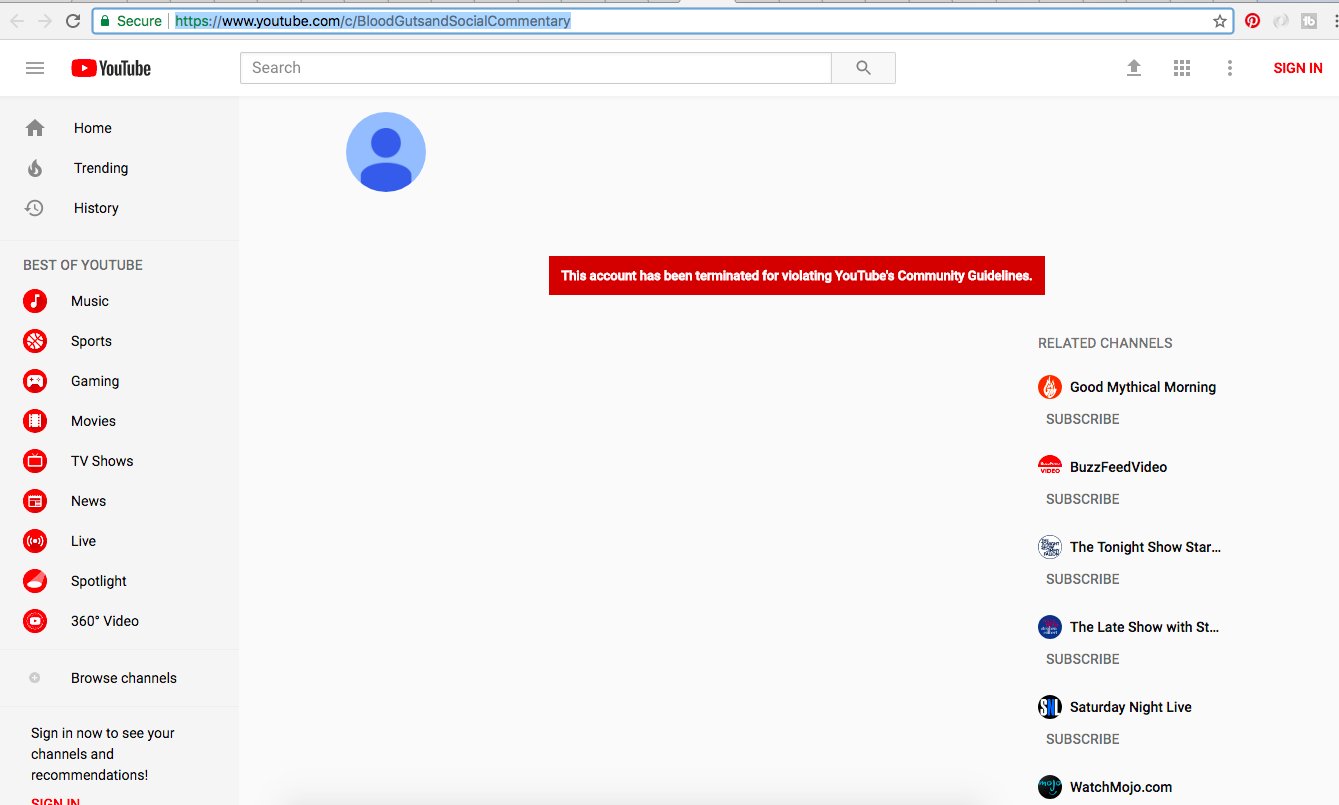 However, the reasons behind the claim seem pretty dodgy in and of themselves. Considering the fact that the videos that have been suffering Strikes are rather innocent in comparison to her other content. "A video I did with the Critical Android was flagged about Music in Horror films. I knew off-hand that one was 100% clean. (…) Another video with Critical Android about things that were unintentionally scary in childhood (pretty popular topic right now) was also flagged."
Ms. Davis doesn't believe that this is YouTube's fault entirely and that this was a decision made because of lack of context. "While I keep videos educational I can see how a quick glance may lead someone to think otherwise. Upon viewing any of those 3 videos though the intent would have become very clear very quickly."
With assistance from other YouTube personalities such as ReignBot, Creepy Elliot, the aforementioned Critical Android and TheGothicLibrarian. The concern has been forwarded towards Team YouTube. However, no response from them has been provided at the time of writing. We should remind the fellow uninformed readers that YouTube has been shown how dodgy they are towards other Content Creators. With a Tweet by Phillip DeFranco who showed a contradicting stance against a charity.
Dear @YouTube @TeamYouTube,

Your response is bullshit. It's not true. People are tired this. Be better. pic.twitter.com/XWh6eMVQWG

— Philip DeFranco (@PhillyD) October 6, 2017
Please show your support towards Blood, Guts and Social commentary by following her Twitter page and forwarding this to YouTube. Amie's channel still could be recovered in good standing as soon as possible.