YouTube Takes Down A Content Creator's Channel Unjustifiedly
YouTube has been going through a very rough patch as of late. The service has been very unfriendly towards Content Creators of various kinds. Namely the ones covering topics such as Horror, True-Crime and Creepy. Some of the affected parties have suffered demonetization and Account Strikes. The worst of it has happened to a channel named Blood, Guts and Social Commentary.
What is Blood, Guts and Social Commentary? I'll allow the channel owner to explain through her Twitter video.
This is what I do and why I do it. Hope to see you soon: https://t.co/Kfv24ITJBq pic.twitter.com/ctPfKmE8Qy

— After Dark Analysis (@AfterDarkAnalys) September 30, 2017
As you can see, the channel dissects the meaning of various aspects of horror and their symbolism towards a general audience. The channel often tackles diverse topics such as Music in Horror Films and Creepy Content in general. However, it seems like as of today. The channel was taken down for very dodgy reasons.
Let's start by the basics, the owner of the channel, Amie Davis-Tobin told GeekReply: "About 2 days ago about 95% of my content was demonetized. Since I've never made money off the channel it wasn't a big deal since 2 videos that had already passed manual review once being flagged again."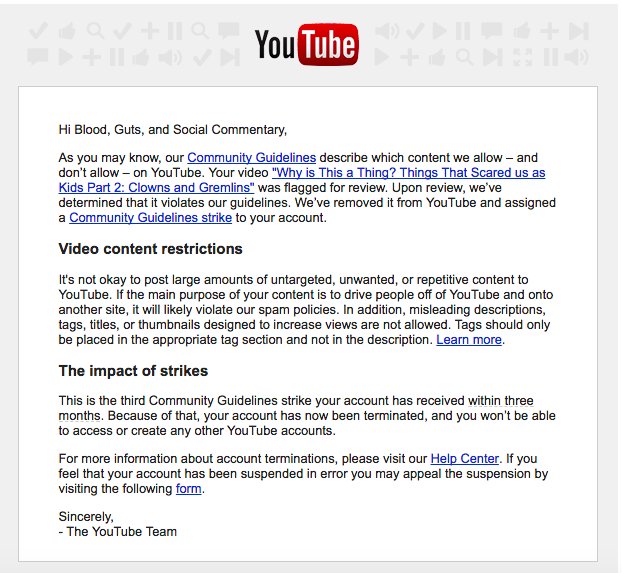 Things quickly took a turn for the worst once Amie found out that her YouTube channel was gone. "I was updating somethings and my video on Puppet Horror was flagged for "community guidelines" (…) When I went to appeal the first two videos, I was locked out of my account." And then she found out that the channel was taken down due to "Violating Community Guidelines".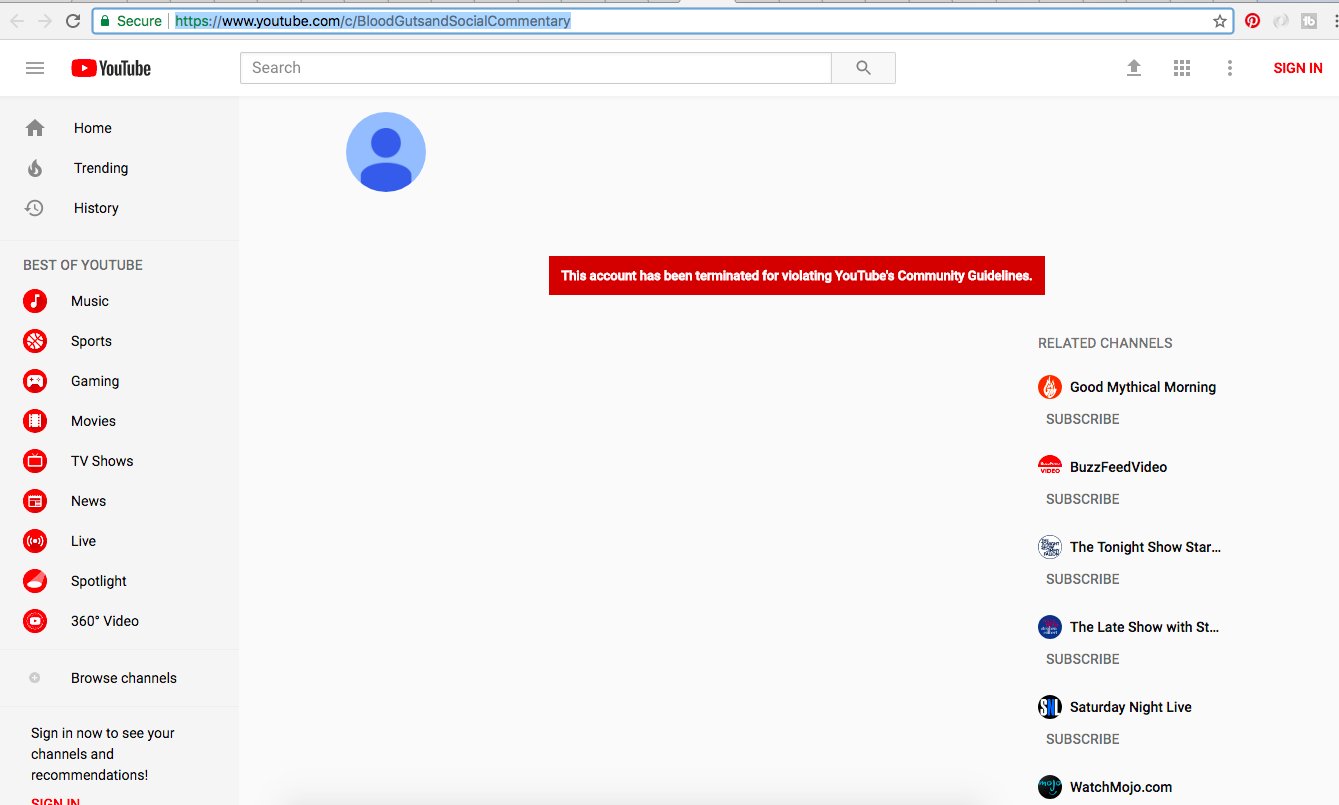 However, the reasons behind the claim seem pretty dodgy in and of themselves. Considering the fact that the videos that have been suffering Strikes are rather innocent in comparison to her other content. "A video I did with the Critical Android was flagged about Music in Horror films. I knew off-hand that one was 100% clean. (…) Another video with Critical Android about things that were unintentionally scary in childhood (pretty popular topic right now) was also flagged."
Ms. Davis doesn't believe that this is YouTube's fault entirely and that this was a decision made because of lack of context. "While I keep videos educational I can see how a quick glance may lead someone to think otherwise. Upon viewing any of those 3 videos though the intent would have become very clear very quickly."
With assistance from other YouTube personalities such as ReignBot, Creepy Elliot, the aforementioned Critical Android and TheGothicLibrarian. The concern has been forwarded towards Team YouTube. However, no response from them has been provided at the time of writing. We should remind the fellow uninformed readers that YouTube has been shown how dodgy they are towards other Content Creators. With a Tweet by Phillip DeFranco who showed a contradicting stance against a charity.
https://twitter.com/PhillyD/status/916132444662751259
Please show your support towards Blood, Guts and Social commentary by following her Twitter page and forwarding this to YouTube. Amie's channel still could be recovered in good standing as soon as possible.
Sony Has a "Monopoly" on the High-End Japanese Gaming Market, According to a US Senator
The never-ending saga surrounding Microsoft's proposed $69 billion acquisition of Activision Blizzard has a new participant.  Today, Senator Maria Cantwell, a Democrat from the state of Washington, said some things about the subject that were hard to understand.
The senator, whose remarks were reported on by ResetEra, spoke at a Senate finance committee hearing on "the president's 2023 Trade Policy Plan," which we are sure was quite interesting.
Senator Cantwell said that she had been told that Sony "controls a monopoly of 98% of the high-end game market" despite the fact that "Japan's government has allowed Sony to engage in blatant anti-competitive conduct through exclusive deals and payments to game publishers, establishing games that are among the most popular in Japan."
This 98% statistic is highly deceptive because it ignores PC, Nintendo, and mobile games and instead refers to Sony's adoption rate over Microsoft in Sony's native country of Japan, a fact that shouldn't surprise anyone who is even somewhat familiar with the video game business.
What can we do to rectify these problems and create a level playing field, she said of US Trade Representative Katherine Tai after charging Japan's Federal Trade Commission with improperly failing to look into this purported "exclusionary conduct"?
It is absurd to claim that Sony has a monopoly on the Japanese video game market, as Luke Plunkett of Kotaku correctly points out, "because Sony doesn't even have a 98% share of the market for the God of War series, a title they own, as Steam is getting 30% of every sale on PC."
It goes without saying that we can't expect elected officials to be experts in every field, but this is a visible step at a time when the ongoing attempt to buy the company is at a very important point.
Is it significant that Microsoft, along with Nintendo, maintains its headquarters in Redmond, Washington—Senator Cantwell's district—or that Microsoft has given Cantwell more than $500,000 over the past two decades?  Let us leave that up to you.
Eating trash, Pizza Possum destroys the PS5
Pizza Possum is an arcade action game in which you, a possum, attempt to consume as much trash as you can without being discovered.  It is a web-based sequel to the anarchy simulator Untitled Goose Game.It will eventually be available on the PS5.
We couldn't help but notice that the possum in the title doesn't look like the cute Australian possum that comes out at night to visit people.On the other hand, it looks like the horrible North American opossums are the ones that will attack trash cans and cause general chaos.Even though we think the second choice was better in terms of theme, we prefer the first one and are happy to explain why.
Your thoughts on Pizza Possum?  Does it possess the necessary mass appeal to successfully skitter along the back fenceline while setting the dog off in the process?
The Mercenaries, a free piece of DLC for Resident Evil 4 Remake, launches on April 7
Resident Evil 4 is now out, and the excellent remake can be bought right away.Even though you probably plan to play it all this weekend, you can take comfort in the fact that The Mercenaries, Resident Evil's almost-required challenge mode, will be available as free DLC on April 7.
The mode's exact details are still unknown, but if it's anything like previous versions, you can expect some pretty hard tasks to test your skills.
You're stumped about something? If you are still debating whether to purchase Resident Evil 4 Remake, be sure to look at our exhaustive guide for the answer or our in-depth review. Are you spending this weekend playing Resident Evil 4? Are you anticipating The Mercenaries?