Tencent will Make a Battle Royale Game
The success of the Battle Royale genre of games is great to see. It's incredible to see other developers try on the genre that PlayerUnknown's Battlegrounds kick started. It is an interesting market to tackle, and it seems like Tencent is aware of this.
Our favorite gaming industry analyst Daniel Ahmad found out about Tencent's new project. The Chinese telecommunications giant is going to make a new Battle Royale game.
So… er…. the countdown stopped for Tencent's battle royale game unveil……..

Now what??? pic.twitter.com/Lhhdqf6ITa

— Daniel Ahmad (@ZhugeEX) November 7, 2017
You guys aren't going to believe this.

It looks like Tencent are making a battle royale game.

Who saw that coming? pic.twitter.com/GUx7Z7edTA

— Daniel Ahmad (@ZhugeEX) November 7, 2017
Considering the fact that PlayerUnknown's Battlegrounds has been having issues to come to China because of legal problems. Tencent is wasting no time into creating a similar themed game to compete with PUBG before it gets to China.
The name of the next game that will come to China is Glorious Mission. Which is going to be a Battle Royale game like Fortnite's Battle Royale mode. There are some business implications behind this decision, of course. But it's interesting to see this company doing a project like this.
Tencent are the fourth-largest internet company in the world (behind Facebook, Google, and Amazon), and own a stake in some of the biggest games in the world, including League of Legends and Clash of Clans.
From the looks of the screenshot right below, the game is going to be another mobile game. In other words, it might have the same reception as that game that looked a lot like Overwatch.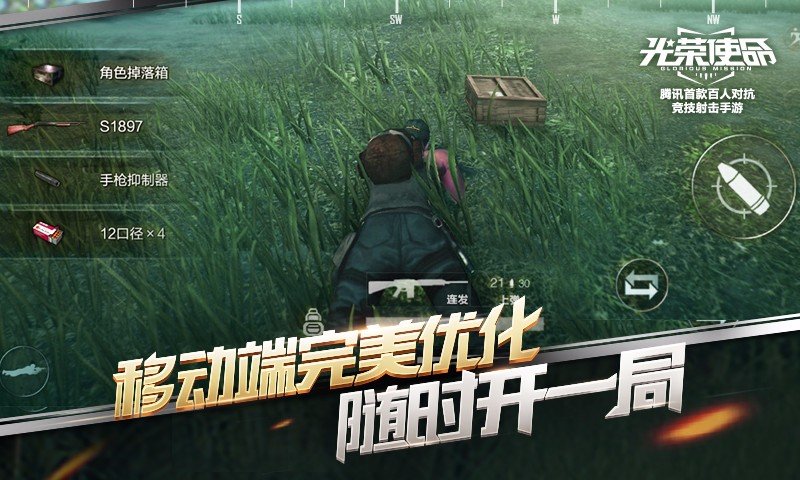 I wonder how Bluehole will react to this sort of news. They weren't too friendly towards Epic Games for trying to tackle a market that isn't exclusive to them. But maybe things will turn out to be better as soon as we see Tencent's new game.
The gaming industry has quite a few surprises for those who look for them, that's for sure. And a mobile Battle Royale game might just do the trick for mobile gamers.
Google appeared as a car manufacturer
Google has recently used CES as a platform to present its philosophy of "Better Together," the notion that all devices should get along with one another. Typically, this entails making announcements regarding new Cast compatibility and features like Fast Pair. The business revealed that it is collaborating with Spotify to incorporate the Connect streaming capability into the Android UI at CES 2023. Additionally, it showed a sneak peek at an audio handoff tool that would recommend various devices to shift your music to based on your preferences and location.
However, CES is a significant vehicle event, and Google also sells items for cars. Additionally, it said today that the Polestar 3 would receive its higher-resolution maps, and it debuted the most recent Android Auto user interface for the first time since it was revealed at I/O 2022.
Two vehicles, a Volvo EX90 with Google preinstalled and a BMW i7 with the new Android Auto experience, were at the Google stand in the trailer lot of the Las Vegas Convention Center. We had never seen the Volvo before, and we'll be posting a separate hands-on on that experience shortly. The new Android Auto is the main topic of this article and video.
The redesigned interface will support larger screen sizes and have a split screen layout, as we discovered at I/O. Google has eliminated the status bar and inserted a row of shortcut keys below it, along with some indication icons in a small area to the top left. When we were in the car, the Spotify app was located on the left panel, and we could access a list of suggested playlists by swiping in from the right side.
Alerts that you won't have time to respond to while driving are likewise stored in this left pane. For instance, you can swipe right on a notification to move it to the dock, where it will wait until you're ready to deal with it.
Check out the video up top for more of our experience with the updated Android Auto in the BMW i7! And be sure to pay attention this week as there will be a ton of news at CES 2023.
WhatsApp's new Communities feature aims to bring related group chats together
Additionally, stand-alone groups will now have access to 32-person video chats.
One of the new features that WhatsApp is introducing is one that aims to group together related group chats. The Communities feature, which was introduced earlier this year by Meta CEO Mark Zuckerberg, aims to let users consolidate group chats "under one umbrella with a structure that works for them." For Facebook and Instagram, comparable technologies are under development.
In the upcoming months, communities will be accessible to all WhatsApp users. To discuss topics that are important to you, you can create smaller group chats inside a community and easily switch between them. WhatsApp will provide administrators with "strong new capabilities" to govern communities, including the capacity to select which groups to include and the option to broadcast announcements to all users.
WhatsApp suggests that communities may be created through local areas, workplaces, and parents with children attending the same school. To begin, select the Communities tab from the menu at the top of the Android app or the bottom of the iOS screen. You will have the option of building a community from scratch or expanding an existing one.
The Communities feature has some similarities to Facebook Groups (as well as Nextdoor and Discord), but it is protected by end-to-end encryption. Making group chats more like Facebook Groups, where false information has thrived in recent years, may have some drawbacks, even though Zuckerberg has been eying a community-driven model to lessen the reliance on feeds across Meta's applications. Due to the platform's focus on encryption, WhatsApp generally has fewer moderation capabilities, which may make it harder to keep a lid on fabrications.
In other places, WhatsApp is giving groups—including those that aren't connected to a community—new functionality. Group polls are also being added, along with support for the 32-person encrypted video conversations that Meta has been beta-testing over the past few weeks. Furthermore, groups now support a maximum of 1,024 people.
15 top Android music player applications
Numerous apps are available for music, which has the power to uplift individuals. The top Android music player apps are listed here!
Nowadays, private music collections are uncommon due to music streaming. A personal music collection is still beneficial to many people, though. Higher-quality music is available; it is offline-compatible and doesn't require a subscription. Thankfully, there are several options available for grooving out to your favorite music. Here are our top choices for Android music player apps.
The best music player apps for Android