Tencent will Make a Battle Royale Game
The success of the Battle Royale genre of games is great to see. It's incredible to see other developers try on the genre that PlayerUnknown's Battlegrounds kick started. It is an interesting market to tackle, and it seems like Tencent is aware of this.
Our favorite gaming industry analyst Daniel Ahmad found out about Tencent's new project. The Chinese telecommunications giant is going to make a new Battle Royale game.
So… er…. the countdown stopped for Tencent's battle royale game unveil……..

Now what??? pic.twitter.com/Lhhdqf6ITa

— Daniel Ahmad (@ZhugeEX) November 7, 2017
You guys aren't going to believe this.

It looks like Tencent are making a battle royale game.

Who saw that coming? pic.twitter.com/GUx7Z7edTA

— Daniel Ahmad (@ZhugeEX) November 7, 2017
Considering the fact that PlayerUnknown's Battlegrounds has been having issues to come to China because of legal problems. Tencent is wasting no time into creating a similar themed game to compete with PUBG before it gets to China.
The name of the next game that will come to China is Glorious Mission. Which is going to be a Battle Royale game like Fortnite's Battle Royale mode. There are some business implications behind this decision, of course. But it's interesting to see this company doing a project like this.
Tencent are the fourth-largest internet company in the world (behind Facebook, Google, and Amazon), and own a stake in some of the biggest games in the world, including League of Legends and Clash of Clans.
From the looks of the screenshot right below, the game is going to be another mobile game. In other words, it might have the same reception as that game that looked a lot like Overwatch.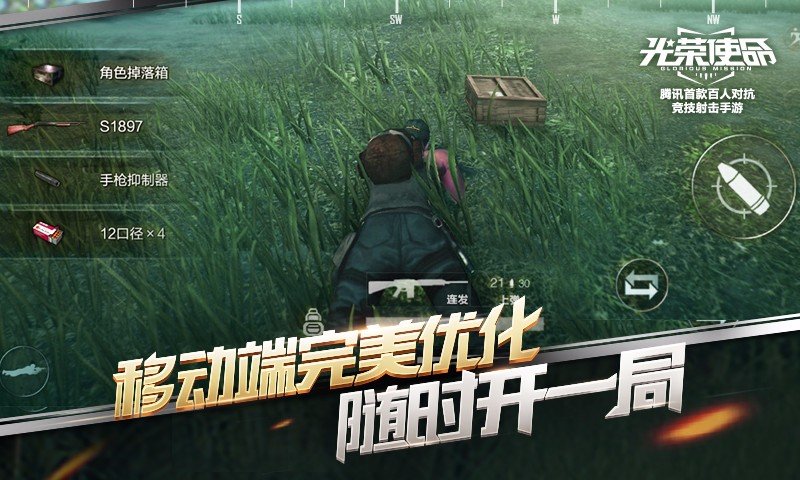 I wonder how Bluehole will react to this sort of news. They weren't too friendly towards Epic Games for trying to tackle a market that isn't exclusive to them. But maybe things will turn out to be better as soon as we see Tencent's new game.
The gaming industry has quite a few surprises for those who look for them, that's for sure. And a mobile Battle Royale game might just do the trick for mobile gamers.
Pixel 8 Pro runs Google's generative AI models
Rick Osterloh, Google's SVP of devices and services, says the Pixel 8 Pro will be the first hardware to run Google's generative AI models.
At an event today, Osterloh said the Pixel 8 Pro's custom-built Tensor G3 chip, which accelerates AI workloads, can run "distilled" versions of Google's text- and image-generating models to power image editing and other apps.
Osterloh said, "We've worked closely with our research teams across Google to take advantage of their most advanced foundation models and distill them into a version efficient enough to run on our flagship Pixel."
Google improved Magic Eraser, its photo-editing tool, to remove larger objects and people smudge-free using on-device models. Osterloh claims that this improved Magic Eraser creates new pixels to fill in shot gaps, producing a higher-quality image.
Osterloh says a new on-device model will "intelligently" sharpen and enhance photo details, improving zoom.
On-device processing benefits audio recording. The Pixel 8 Pro's recording app will soon summarize meeting highlights.
Gboard will use a large language model on the Pixel 8 Pro to power smart replies. Osterloh claims that the upgraded Gboard will provide "higher-quality" reply suggestions and better conversational awareness.
Osterloh said an update in December will add on-device generative AI features except for Magic Eraser, which appears on the Pixel 8 Pro at launch.
Telegram launches a global self-custodial crypto wallet, excluding the US
Telegram, with 800 million monthly users, is launching a self-custodial crypto wallet. The move will solidify its presence in the vibrant crypto community that has grown from its chat platform and may attract more people to crypto.
Telegram and TON Foundation announced TON Space, a self-custodial wallet, on Wednesday at Singapore's Token2049 crypto conference, which draws over 10,000 attendees.
Telegram has a complicated blockchain relationship. After the SEC sued Telegram over a massive initial coin offering, the chat app abandoned its Telegram Open Network (TON) blockchain project in 2020. The Open Network Foundation (TON Foundation), founded by open-source developers and blockchain enthusiasts, supports the development of The Open Network (TON), the blockchain powering a growing number of Telegram applications, including the wallet.
The Open Platform (TOP) and TOP Labs, a venture-building division, created the TON-based wallet.
TON Space will be available to Telegram users worldwide without wallet registration in November. The U.S., which has cracked down on the crypto industry and promoted many crypto apps to geofence users, is currently excluded from the feature.
Google's massive antitrust trial begins, with bigger implications
The Justice Department's landmark antitrust case against Google began in court today, setting off a months-long trial that could upend the tech world.
At issue is Google's search business. The Justice Department claims that Google has violated antitrust laws to maintain its search title, but the company claims that it does so by providing a superior product.
The Justice Department sued Google for civil antitrust in late 2020 after a year-long investigation.
"If the government does not enforce the antitrust laws to enable competition, we will lose the next wave of innovation," said then-Deputy Attorney General Jeffrey A. Rosen. "If that happens, Americans may never see the 'next Google.'"
A large coalition of state attorneys general filed their own parallel suit against Google, but Judge Amit Mehta ruled that the states did not meet the bar to go to trial with their search ranking complaints.
The search business case against Google is separate from a federal antitrust lawsuit filed earlier this year. The Justice Department claims Google used "anticompetitive, exclusionary, and unlawful means" to neutralize threats to its digital advertising empire in that lawsuit.
Justice Department attorney Kenneth Dintzer set the stakes for the first major tech antitrust trial since Microsoft's late 1990s reckoning on Tuesday. "This case is about the future of the internet, and whether Google's search engine will ever face meaningful competition," Dintzer said.
Beginning the trial, the government focused on Google's deals with phone makers, most notably Apple, that give its search product top billing on new devices. Dintzer claimed that Google maintains and grows its search engine dominance by paying $10 billion annually for those arrangements.
"This feedback loop, this wheel, has been turning for more than 12 years," he said. "And it always benefits Google."
Google lawyer John Schmidtlein refuted that claim, hinting at the company's legal defense in the coming weeks.
"Users today have more search options and more ways to access information online than ever before," Schmidtlein said. Google will argue that it competes with Amazon, Expedia, and DoorDash, as well as Microsoft's Bing search engine.
Google planted the seeds for this defense. According to internal research, Google Senior Vice President Prabhakar Raghavan said last year that more young people are using TikTok to search for information than Google Search.
In our studies, almost 40% of young people don't use Google Maps or Search to find lunch, Raghavan said. "They use TikTok or Instagram."
Google will be decided by U.S. District Judge Amit Mehta in the coming months. We're far from that decision, but the company could be fined heavily or ordered to sell parts of its business.
The trial could change Google's digital empire if the Justice Department wins. Other tech companies that dominated online markets in the last decade are also watching. If the government fails to hold an iconic Silicon Valley giant accountable, big tech will likely continue its aggressive growth trajectory.
If the Justice Department succeeds, the next decade could be different. The industry-wide reckoning could cripple incumbents and allow upstarts to define the next era of the internet, wresting the future from tech titans.