Five Ongoing Webcomics You Probably Should Read
We live in an age where anyone can post anything on the Internet, from albums of vacation pictures to written reviews about video games. However, while crazy conspiracy theories and viral videos tend to be extremely popular, webcomics receive less attention than they deserve. Webcomics, as the name suggests, are comics that up-and-coming (or established) comic creators post on their own websites. These writers/artists get to tell their own stories about their own characters their own way, no mandated crossover event comics that reset the universe, no pointless/"collectible" holofoil covers, just stories written by talented individuals who have a passion for what they do. However, with the number of webcomics available online, it's next to impossible to sift through them all. That said, I have spent a lot of time reading webcomics — not so much that it gets in the way of productivity, though — so I am probably qualified to help you find what I personally consider to be some of the best webcomics on the Internet.
5. StupidFox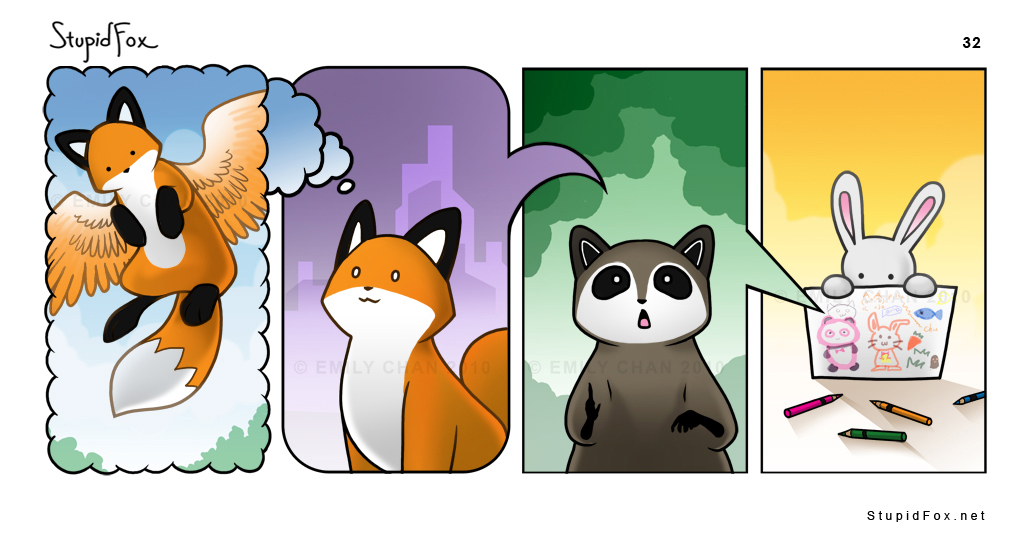 The star of StupidFox is a fox, and yes, he's rather stupid, but that's part of his charm. Unlike the other entries on this list, StupidFox is episodic, so you can read the strips in any order. Each strip is its own story, which is always "the random and silly adventures of the fox and friends," but these mini-adventures are never repeated and are always hilarious, cute, and safe for all ages. Also, each StupidFox strip is only four panels long, so they only take several seconds to finish. Start reading this webcomic here and say hello to what might be the cutest — and dumbest — fox on the Internet.
4. Romantically Apocalyptic
Most post-apocalyptic stories take place in a depressing world where everyone is either an edgelord or a Mad Max cosplayer (or both), and the survivors struggle to survive. Romantically Apocalyptic bucks all those trends and is near impossible to quantify or qualify, but honestly that's a good thing. The webcomic has a unique art style that is both creepy and batshit insane, and every character is upbeat and optimistic, mostly because they're all batshit insane and treat the blasted wastelands and corpse-strewn cities as playgrounds. And don't even get me started on the story, because it is, say it with me now, batshit insane, but that's probably the point. If you're in the mood for a unique webcomic that is as enjoyable as it is crazy, start reading Romantically Apocalyptic and say goodbye to your sanity.
3. Grrl Power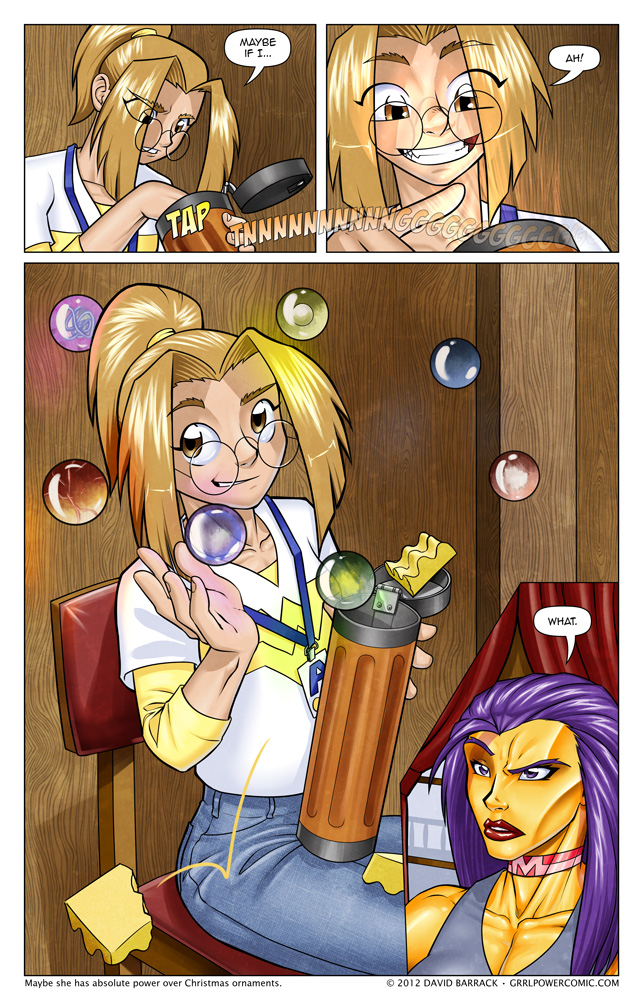 Superhero comics are extremely popular, and so are superhero webcomics. Honestly, these kinds of webcomics are so popular they would be a dime a dozen if they weren't already free. Normally, you would expect the Superman, Batman, Spider-Man, or Wolverine analogue to be the main character in these kinds of comics, but Grrl Power tries something different. The story follows a dorky, uncoordinated, comic book-loving girl with ADD and the uncanny ability to string together words into curses even Eric Cartman would be proud of. Oh, and did I mention her powers come from eldritch orbs that "level up" with vaguely RPG-esque skilltrees? Thanks to the creator's writing and sense of humor, this webcomic manages to celebrate and riff superhero comics, create a unique world and story, and develop a relatable and flawed main character. Go read Grrl Power today; you won't be disappointed.
2. Atomic Robo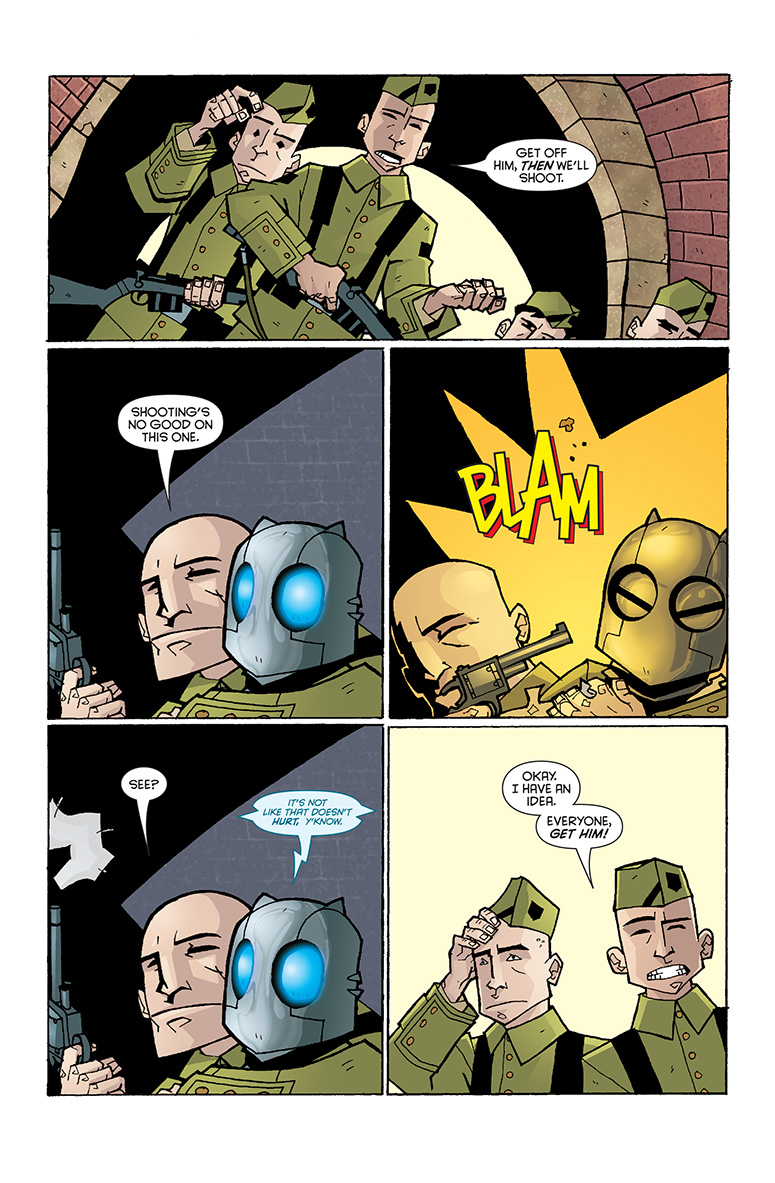 Were you as disappointed as I was when Mike Mignola announced he would no longer create Hellboy comics? Well, Atomic Robo might be no Hellboy, but it's darn close and a very good replacement. The main character, the titular Atomic Robo (or sometimes just Robo), is a sentient robot built by Nikola Tesla, and Robo brings this webcomic to life. He's witty, clever, kind, and everything you need from a good protagonist. Furthermore, Robo lives in a world that, while nuts, makes sense in context, and he fights everything from elder Lovecraftian gods that exist outside of time to a talking dinosaur. And Nazis, because every Hellboy-like comic needs Nazis. If you don't read Atomic Robo now, you'll never learn how he saved the world from vampires from an alternate, post-apocalyptic dimension. Yes, seriously.
1. EGS: El Goonish Shive
Yes, I am aware the title doesn't make sense, but that doesn't mean the webcomic doesn't make sense, as it might be one of the smartest I've ever read. Admittedly, EGS: El Goonish Shive starts off a little rough — ok, very rough — but it quickly turns into a modern classic, thanks to fantastic character arcs, well-written dialogue, excellent comedy, and an occasional helping of creepy/disturbing events. Just a bit of warning, though, transformation is a major recurring theme in the comic. One of the main characters is essentially a weresquirrel, another has a spell that transforms him into a Supergirl-esque superheroine, and then there are all the spells and enchanted items that alter the human body in myriad of ways, including but not limited to height, hair length/color, muscle size, breast size, and skin color. But, before you label this comic as fetishistic, keep in mind all the characters are teenagers; their transformations are as physical as they are symbolic (most of the time) of how the characters discover aspects about themselves — especially their sexualities — throughout the comic. If you're in the mood for a slightly mature and extremely clever comic and don't mind the occasional exposition dump or random physical transformation, start reading EGS: El Goonish Shive.
Honorable Mention: JL8
Completely forgot about this webcomic up until five minutes ago, but I probably should include it in this list. JL8′s premise is that every member of the Justice League, and all of their villains, are eight years old and they go to school together. It's a fun and kid friendly webcomic, and while it tries to tell its own stories, it loses points for relying on characters established in other comics. Still, watching these characters live out somewhat normal lives — as superpowered children — is both novel and adorable, almost as adorable as Batman brooding in this comic. You can start reading JL8 here, and afterwards you can wonder why DC Comics hasn't hired its creator, Yale Stewart.
Gaming models are created by Auctoria using generative AI
Aleksander Caban, co-founder of Polish VR game developer Carbon Studio, noticed a major problem in modern game design several years ago. He manually created rocks, hills, paths, and other video game environment elements, which was time-consuming and laborious.
Caban created tech to automate the process.
In collaboration with Michal Bugała, Joanna Zając, Karolina Koszuta, and Błażej Szaflik, he founded Auctoria, an AI-powered platform for creating 3D game assets. Auctoria, from Gliwice, Poland, is in Startup Battlefield 200 at Disrupt 2023.
Auctoria was founded on a passion for limitless creativity, according to Zając in an email interview. It was designed to help game developers, but anyone can use it. Few advanced tools exist for professionals; most are for hobbyists and amateurs. We want to change that."
Using generative AI, Auctoria creates various video game models. One feature generates basic 3D game levels with pathways, while another converts uploaded images and textures of walls, floors, and columns into 3D versions.
Like DALL-E 2 and Midjourney, Auctoria can generate assets from text prompts. Or they can submit a sketch, which the platform will try to turn into a digital model.
All AI algorithms and training data for Auctoria were developed in-house, according to Zając.
She said "Auctoria is based 100% on our content, so we're not dependent on any other provider." It's independent—Auctoria doesn't use open source or external engines.
In the emerging market for AI game asset generation tools, Auctoria isn't alone. The 3DFY, Scenario, Kaedim, Mirage, and Hypothetic startups create 3D models. Even Nvidia and Autodesk are entering the space with apps like Get3D, which converts images to 3D models, and ClipForge, which generates models from text descriptions.
Meta also tried tech to create 3D assets from prompts. In December, OpenAI released Point-E, an AI that synthesizes 3D models for 3D printing, game design, and animation.
Given the size of the opportunity, the race to market new solutions isn't surprising. According to Proficient Market Insights, 3D models could be worth $3.57 billion by 2028.
According to Zając, Auctoria's two-year R&D cycle has led to a more robust and comprehensive toolset than rivals.
"Currently, AI-based software is lacking for creating complete 3D world models," Zając stated. "3D editors and plugins offer only a fraction of Auctoria's capabilities. Our team started developing the tool two years ago, giving us a ready-to-use product."
Auctoria, like all generative AI startups, must deal with AI-generated media legal issues. Not yet clear how AI-generated works can be copyrighted in the U.S.
However, the Auctoria team of seven employees and five co-founders is delaying answering those questions. Instead, they're piloting the tooling with game development studios like Caban's Carbon Studio.
Before releasing Auctoria in the coming months, the company hopes to raise $5 million to "speed up the process" of creating back-end cloud services to scale the platform.
Zając stated that the funding would reduce the computing time required for creating worlds or 3D models with Auctoria. Achieving a software-as-a-service model requires both infrastructure and user experience enhancements, such as a simple UI, excellent customer service, and effective marketing. We'll keep our core team small, but we'll hire more by year's end."
Syphon Filter on PlayStation Plus Premium: Dark Mirror and Ape Academy 2 Have Awards
Even though trophy support for older games on PS Plus Premium isn't always great, you can always count on Sony's first-party games to have it.If you like collecting these digital trinkets, you're in luck, because today's big PlayStation Plus update includes two classic games that can now be used to earn Trophies.
Each trophy list for Ape Academy 2 and Syphon Filter: Dark Mirror includes the platinum cherry on top. You can look at their respective listings here and here if you're interested.
The list for Dark Mirror appears to be quite simple—you can basically earn them all by finishing the game. The trophies in Ape Academy 2 appear to be a little more complicated, requiring you to complete particular objectives in card battles and advance to specified rankings. Nonetheless, it doesn't seem too difficult, so we're looking at a couple of quite simple platinums.
Ridge Racer: Type 4 is this month's other premium classic game; sadly, it does not offer trophies. But it makes up for it by being a complete banger.
However, will you be obtaining some of these trophies with a nostalgic flavor?
Beautiful New Book Teaches About the Art of Horizon Forbidden West
This year, Sony produced some truly outstanding work, releasing four high-profile games on the PS5 and PS4 (not to mention the numerous PC ports). The earliest of these, Horizon Forbidden West, arrived in February of 2022 and got the year off to a strong start. One of Aloy's sophomore journey's greatest strengths, among the many other things we like about it, is its excellent art direction. The Art of Horizon Forbidden West allows you to now delve deeply into the game's visuals.
This coffee table book, which was published by Dark Horse Books, contains 200 pages of concept art and developer commentary. It provides an inside look at the process used to develop engaging characters and settings, and Forbidden West is certainly not lacking in either.
There will be two editions of the book: standard and deluxe. Both are hardback books, with the deluxe edition having pages with metallic edges and a unique slipcase. These are now up for pre-order and will go on sale on April 25, 2023.