So, I guess we have a new number 1 in terms of disastrous PR events that will forever be remembered in the history of gaming. Coming first to take the place of that hilariously bad Sonic 25th anniversary spectacle of bad. And that hilarious KONAMI press conference. We are going to look at this short "Post-mortem" of Pokemon GO Fest at Chicago Illinois. Quick shoutout to my friend Jess for giving me word of this, you can check her article Here.
Niantic's One Year Anniversary Celebration – The Beginning
Around 20,000 Pokemon GO fans made their way to Grant Park in Chicago, Illinois on Saturday with the promise of event exclusive legendary Pokemon and a great time. The event had its $20-dollar ticket events sold out very quickly and the hype behind it was basically a higher encounter rate, rewards for accomplishing challenges Special Pokestops, an in-app medal exclusive to the event amongst other sort of swag for the fans of the app.
And of course, like any other kind of event that has a ton of buildup and an incompetent team of developers (more on that in a bit). The event turns out to be a complete disaster, plagued by lines to even get into the event that were long and moved at a snails' pace. Only rivaled by the amount of frustrated gamers when Ryu became a fighter in Smash 4.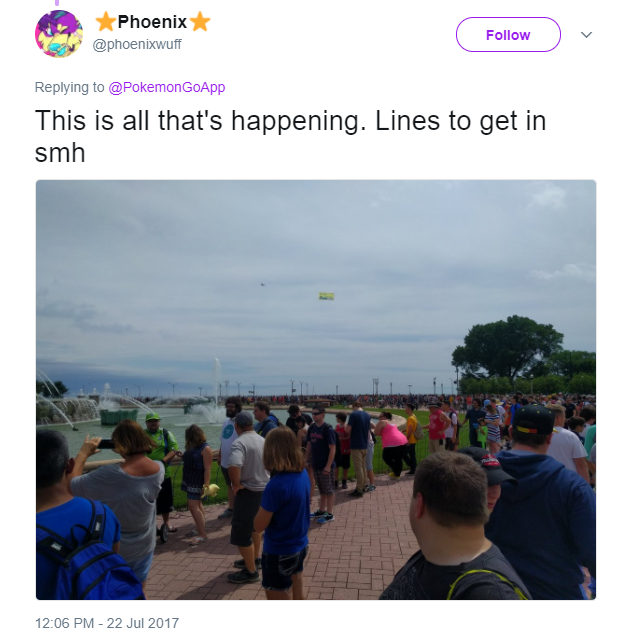 But what caused such a problem? Well, turns out that. In an ironic twist of fate, Niantic didn't really learn their lesson when the app was launched to begin with. Since the servers crashed due to the overpopulation. Basically, when the servers are too cluttered with users. The servers crash and any and all activity is unavailable for the app. So, in essence. Pokemon GO was literally IMPOSSIBLE to play for any and all users in and outside Grant Park.
Pokemon GO Fest – The Backlash
The show wasn't done yet because in a very hilarious display that had me sharing this with almost all of my peers and partners. Festival goers expressed their frustrations, shouting "we can't play" when the Niantic CEO John Hanke went in to present his apology to the general public. This was one of the highest moments of the event and I was really laughing hard during the entire spectacle. Not because I was there, but because this event was being publicly broadcasted to Twitch.tv!
Hanke came clean and talked about the issues at the current time, stating: "I know that some of you guys have had trouble getting logged on this morning, and I wanted to let you know that we're working with the cell companies—AT&T, Sprint, Verizon, trying to get that worked out, and we're working on the game server to get that worked out. So, I want to ask you guys, please know, we've got the whole Niantic team working against this, so please be patient with us."
The "Solution" that the players got was to stand close to a nearby cell-tower and use Wi-Fi… In a place without Wi-Fi connections. Also, considering the fact that these would be the first solutions people would think of. The advice came off as redundant and only painted more shade at Niantic and Nintendo for the people who didn't know any better.
Some unhappy campers at #PokemonGoFest –

Son got on with Verizon, can't login with AT&T 🙁 pic.twitter.com/uJlc1rZ71W

— chip sineni (@chipsineni) July 22, 2017
Angry Gamers and Wasted Time – Death
What happened was nothing short of amazing, Niantic turned out to be refunding ticket sales for the people who came by. But those were only Ticket sales, considering that people who wasted their money on Hotel expenses and Travelling from other countries to Chicago were only getting like 10% of the cahs they spent to be there to begin with, well. You can guess that the backlash was also more than impressive.
However, players also got to leave with $100 dollars' worth of Pokecoins. You know, because in-game currency often makes up for the fact that you wasted a lot of money in going to the goddamned event in the first place. They were also rewarded with 20-minute-long lines just to get out of the event (Fun times) and generally. A miserable time to be alive for the people who attended the event.
Due to degraded experience on overtaxed cell networks, Niantic will be offering full refunds to GO Fest ticket holders + $100 in PokeCoins.

— The Silph Road (@TheSilphRoad) July 22, 2017
Niantic's Tomfoolery – The Autopsy
Now, this post-mortem has the purpose of showing what's wrong and how the company can get better from it. Niantic must learn that partnerships with mobile companies are golden in such an app. They decided to release Lugia and Articuno to the general public (To quote Kotaku in a different article "Because that'll help"). And now, everyone has effectively wasted their time in this event. So, Niantic. If you plan on doing something like this, you can expect a little more than 20,000 users are going to come to it.
What makes me chuckle about this whole situation is that this is a repeat that happened exactly one year ago. Yes! This is indeed a celebration of Pokemon GO's first anniversary. And I guess old habits die hard for this company because it reminded people of the problems that came when the game was first released. What a poor performance by Niantic. Hopefully, they will learn from this.