Building Teams: Part One – Competitive Pokemon Guide
I have done a lot of talking about how to choose the Pokémon for your team and battle psychology, however I haven't actually shown you a team of my own yet, so I've built two teams as a demonstration. The first one I built was a weather team. The second was a more basic rounded team based on the suggestions I've giving in this series. Here is the first team:
Weavile (Life Orb), Jolly Nature
Ability: Pressure
4 HP
252 Attack
252 Speed
– Fake Out
– Knock Off
– Icicle Crash
– Toxic
Weavile serves as an anti-lead. His combination of Fake Out and Knock Off does well to deal with Azelf and also to knock off the items of flinched leads. Icicle Crash is for general coverage and to occasionally get a flinch. Toxic is just there to provide more residual damage over the course of the game.
Chansey (Eviolite), Calm Nature
Ability: Natural Cure
4 HP
252 Defence
252 Special Defence
– Wish
– Protect
– Heal Bell
– Flame Thrower
Chansey serves as the physical wall and cleric for this team, curing status ailments that bother the other Pokémon. Using a combination of Wish and Protect, Chansey is able to recover huge amounts of health and also pass it on and heal other members of the team. Flamethrower acts as a Scizor/Ferrothorn/Forretress counter and has OHKO'd Scizor before.
Skarmory (Leftovers), Bold Nature
Ability: Sturdy
252 HP
252 Defence
4 Special Defence
– Stealth Rocks
– Spikes
– Whirlwind
– Roost
Skarmory works with Chansey taking the big hits for the team. Skarmory comes out against a safer Pokémon and begins to set entry hazards and roosting off damage, once there is enough, I begin using whirlwind to juggle the opponents team and force them onto the entry hazards. It's proven so effective that I beat an entire team more or less only using Skarmory.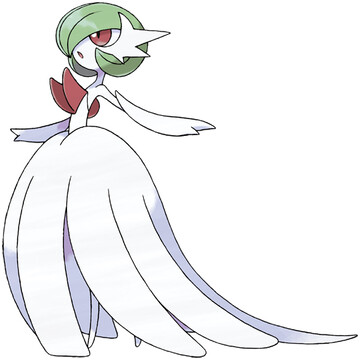 Gardevoir (Gardevoirite), Timid Nature
Ability: Synchronise/Pixilate
52 HP
204 Special Attack
252 Speed
– Calm Mind
– Hyper Voice
– Psychock
– Focus Blast
Gardevoir is an amazing wall breaker and special sweeper. I chose an EV spread that would give her extra bulk to withstand a few more hits while using Calm Mind to boost up. Then after removing the opponent, I'll usually switch out and allow Chansey to heal Gardevoir later in the game.
Garchomp (Leftovers), Jolly Nature
Ability: Rough Skin
4 HP
252 Attack
252 Speed
– Substitute
– Swords Dance
– Dragon Claw
– Earthquake
Garchomp is my physical sweeper, I'll usually bring him in later in the game against a safer target, use substitute and begin swords dancing. While it lacks in bulk it doesn't need too much in order to briefly gain a swords boost and the leftovers will soon replenish the hit points he lost. I've swept a mono-ghost team using Garchomp to clean up as they came out onto Skarmory's entry hazards.
Gengar (Black Sludge), Timid Nature
Ability: Levitate
4 HP
252 Special Attack
252 Speed
– Substitute
– Shadow Ball
– Sludge Wave
– Focus Blast
Gengar is my multi-purpose Pokémon, he acts as a spin blocker (his ghost typing prevents the opponent from using rapid spin and spinning away the entry hazards), he also acts as my speedy revenge killer and alternates with Garchomp as a late game cleaner. His special attack is so high that he also double acts as a special sweeper with Gardevoir.
The purpose of this team is to weaken the opponent using entry hazards and status ailments first to make up for its lack of overall offensive presence. So far I've had a lot of success with this team and part of the beauty of it is that it doesn't have too many strong weaknesses to any one type. There are no Pokémon on the team that are weak against ground, which means that Earthquake is not nearly as dangerous for this team as it is for most others. It does however have two Pokémon that are weak to fire type attacks which Garchomp has to check.
Overall though it's a decent team, it's by no means the be all and end all, but I think it's a decent example of how to build a well balanced team. I hope that looking at it will give you more of an idea of how to structure your own team.
Join me next time to take a look at my weather team!
In Spider-Man 2, Player Unconventionally Free Roams as Venom
One player found an unusual way to roam Marvel's Spider-Man 2's New York City as Venom again. However, intentionally crashing your game during a story segment requires nerves of steel, so we wouldn't recommend it. Possible Marvel's Spider-Man 2 spoilers!
UnderTheHood788 explained their method, which involves reaching a cutscene that switches players to Peter. They unplugged their PS5 when the screen blanked while switching to fidelity mode. As the game renders slower, fidelity mode was used. Players get Don't Be Scared, a mission without an objective, after reloading the last save.
UnderTheHood788 advises, "Wait a bit and go to an unidentified target mission or talon drone mission to become Venom. Reload and become Venom, committing crimes against hunters, the flame, thugs, and even symbiotes. Bases are possible."
If you like causing carnage, get a move on—Insomniac will spoil the fun in the next update. This indirect approach—what do you think?
Avatar Frontiers of Pandora Could Influence Future Films
On December 7, Ubisoft's Avatar: Frontiers of Pandora hits PS5. Fans can expect new creatures, characters, and storylines that are influencing other Avatar projects as part of James Cameron's canon.
Massive Entertainment director Magnus Jansén told IGN that the game's new Western Frontier region—from plants to Na'vi clans—is now Avatar lore: "The Western Frontier is no less a part of the world of Avatar than what's in the movies." Jansén says one of their creations is in an Avatar exhibition, but most excitingly, "there is already some talk about maybe using some of the stuff that we did in the upcoming movies."
Jon Landau, producer of the Avatar films, said: "I think clans are a perfect thing to someday try to weave into the movies. However, new environments follow. Go and say, "Okay, let's explore what you did in the video game in the movie." Frontiers of Pandora introduces the Aranahe, Zeswa, and Kame'tire Na'vi clans.
In addition, Lightstorm VP of franchise development Joshua Izzo teased: "I can say that there are going to be some future sequel elements in Frontiers of Pandora that will pay off when the movie comes out when Avatar 3 comes out in 2025. Because of '25, careful Avatar fans may want to revisit certain things.
CDPR's Live-Action Cyberpunk 2077 Not Due Until 2025
CD Projekt's live-action Cyberpunk 2077 won't arrive until 2025. In the company's latest earnings call, the PM project was only mentioned as not expected in 2024.
During a call with IGN, chief commercial officer Michał Nowakowski stated that the company will continue to promote the game and develop the Cyberpunk IP through activities beyond the game.
Nowakowski said, "We're not really discussing specifics here, but one of the obvious things that we have announced, not happening next year, but going to be developed or moved in the direction next year, is the project we have announced with Anonymous Content."
Anonymous Content, which produced Crime & Punishment, True Detective, and Mr. Robot, seems like a good fit to bring Night City's mean streets to life. We don't know if the project will be a TV show, movie, game adaptation, or standalone story.
Would you attend a live-action Cyberpunk event? Would you like it in what form? Jackie and V lost six months. With Johny Silverhand, Behind the Music?