Building Teams: Part One – Competitive Pokemon Guide
I have done a lot of talking about how to choose the Pokémon for your team and battle psychology, however I haven't actually shown you a team of my own yet, so I've built two teams as a demonstration. The first one I built was a weather team. The second was a more basic rounded team based on the suggestions I've giving in this series. Here is the first team:
Weavile (Life Orb), Jolly Nature
Ability: Pressure
4 HP
252 Attack
252 Speed
– Fake Out
– Knock Off
– Icicle Crash
– Toxic
Weavile serves as an anti-lead. His combination of Fake Out and Knock Off does well to deal with Azelf and also to knock off the items of flinched leads. Icicle Crash is for general coverage and to occasionally get a flinch. Toxic is just there to provide more residual damage over the course of the game.
Chansey (Eviolite), Calm Nature
Ability: Natural Cure
4 HP
252 Defence
252 Special Defence
– Wish
– Protect
– Heal Bell
– Flame Thrower
Chansey serves as the physical wall and cleric for this team, curing status ailments that bother the other Pokémon. Using a combination of Wish and Protect, Chansey is able to recover huge amounts of health and also pass it on and heal other members of the team. Flamethrower acts as a Scizor/Ferrothorn/Forretress counter and has OHKO'd Scizor before.
Skarmory (Leftovers), Bold Nature
Ability: Sturdy
252 HP
252 Defence
4 Special Defence
– Stealth Rocks
– Spikes
– Whirlwind
– Roost
Skarmory works with Chansey taking the big hits for the team. Skarmory comes out against a safer Pokémon and begins to set entry hazards and roosting off damage, once there is enough, I begin using whirlwind to juggle the opponents team and force them onto the entry hazards. It's proven so effective that I beat an entire team more or less only using Skarmory.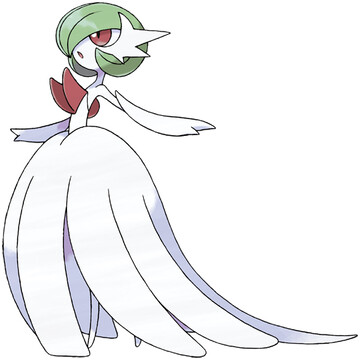 Gardevoir (Gardevoirite), Timid Nature
Ability: Synchronise/Pixilate
52 HP
204 Special Attack
252 Speed
– Calm Mind
– Hyper Voice
– Psychock
– Focus Blast
Gardevoir is an amazing wall breaker and special sweeper. I chose an EV spread that would give her extra bulk to withstand a few more hits while using Calm Mind to boost up. Then after removing the opponent, I'll usually switch out and allow Chansey to heal Gardevoir later in the game.
Garchomp (Leftovers), Jolly Nature
Ability: Rough Skin
4 HP
252 Attack
252 Speed
– Substitute
– Swords Dance
– Dragon Claw
– Earthquake
Garchomp is my physical sweeper, I'll usually bring him in later in the game against a safer target, use substitute and begin swords dancing. While it lacks in bulk it doesn't need too much in order to briefly gain a swords boost and the leftovers will soon replenish the hit points he lost. I've swept a mono-ghost team using Garchomp to clean up as they came out onto Skarmory's entry hazards.
Gengar (Black Sludge), Timid Nature
Ability: Levitate
4 HP
252 Special Attack
252 Speed
– Substitute
– Shadow Ball
– Sludge Wave
– Focus Blast
Gengar is my multi-purpose Pokémon, he acts as a spin blocker (his ghost typing prevents the opponent from using rapid spin and spinning away the entry hazards), he also acts as my speedy revenge killer and alternates with Garchomp as a late game cleaner. His special attack is so high that he also double acts as a special sweeper with Gardevoir.
The purpose of this team is to weaken the opponent using entry hazards and status ailments first to make up for its lack of overall offensive presence. So far I've had a lot of success with this team and part of the beauty of it is that it doesn't have too many strong weaknesses to any one type. There are no Pokémon on the team that are weak against ground, which means that Earthquake is not nearly as dangerous for this team as it is for most others. It does however have two Pokémon that are weak to fire type attacks which Garchomp has to check.
Overall though it's a decent team, it's by no means the be all and end all, but I think it's a decent example of how to build a well balanced team. I hope that looking at it will give you more of an idea of how to structure your own team.
Join me next time to take a look at my weather team!
The Final Horizon DLC from Sonic Frontiers is surprisingly hard
Sonic Frontier's third and final free DLC update, The Final Horizon, is frustrating some players with its difficulty. Some say it's Sonic's hardest gameplay ever.
Many players complained about this unexpected difficulty spike in a 12-page GameFaqs forum post called "This DLC is way too hard" (thanks VGC). One of the main complaints about Sonic Frontiers was that it was too easy, and Team Sonic overcorrected, which makes it surprising.
Final Horizon, the last free update, let players play as Tails, Knuckles, and Amy and complete a variety of optional challenges, which is the challenge. Many are breaking down after a vertigo-inducing tower that requires pixel-perfect platforming without checkpoints, apparently inspired by viral Twitch hit Only Up!
Have you tried Sonic Frontiers Final Horizon DLC? Is it really that hard, or has Sonic always been the Dark Souls of mascot platformers?
Marvel's Spider-Man 2 Cinematic Teaches Teamwork
Marvel's Spider-Man 2's cinematic trailer appeared suddenly as the wait seemed endless. It shows us that together, we can overcome anything.
The scene is surprisingly sad, with flashbacks to each Spider-Man's tragic past. As property damages mount, Peter and Miles have emotional internal monologues while fighting Venom.
Venom appears to be about to lose when he realizes they can be stronger together before the scene fades to black. We won't know how this story ends until Marvel's Spider-Man 2 launches exclusively on PS5 on October 20.
Do you think teamwork makes the dream work? Should you see more of Insomniac's latest or are you sold?
Persona 3 Reload Character Tribute Trailer Honors Hero
A new trailer featuring Aleks Le's fearless protagonist S.E.E.S makes Persona 3 Reload more real. Atlus promises weekly character tributes, so get excited. Our stoic protagonist, who will be playable on PS5 and PS4 when this remade RPG releases on February 2, is introduced well.
We've accepted playing without our favorite character and are starting to like Reload. The setting, story, and cast have always been great, and the more we learn about the proposed changes, the more we want to return to Tartarus.
With Persona 3 Reload, where are you? Did you play the game before or is this your first time?