Ransomware Attack Asks for Nudes to Unlock Files
So, a ransomware attack has recently spread out across the internet. However, the demands that it asks for are far from the usual demands of money or such. We have covered attacks of this kind multiple times before, like the WannaCry ransomware that spread out. This takes the cake as one of the most unprecedented attacks to ever be seen.
The ransomware doesn't ask for any particular kind of money. In fact, it doesn't ask for money at all. Instead it asks users to submit their nude pictures, and in return, they might get their files back. I'm not even kidding.
Now dubbed nRansomware, the ransomware was identified by a security team denominated as MalwareHunter. They shared the screenshot of the ransom note asking users for their nude pictures. The note also displayed a brief message explaining how a victim can send their pictures to the creator.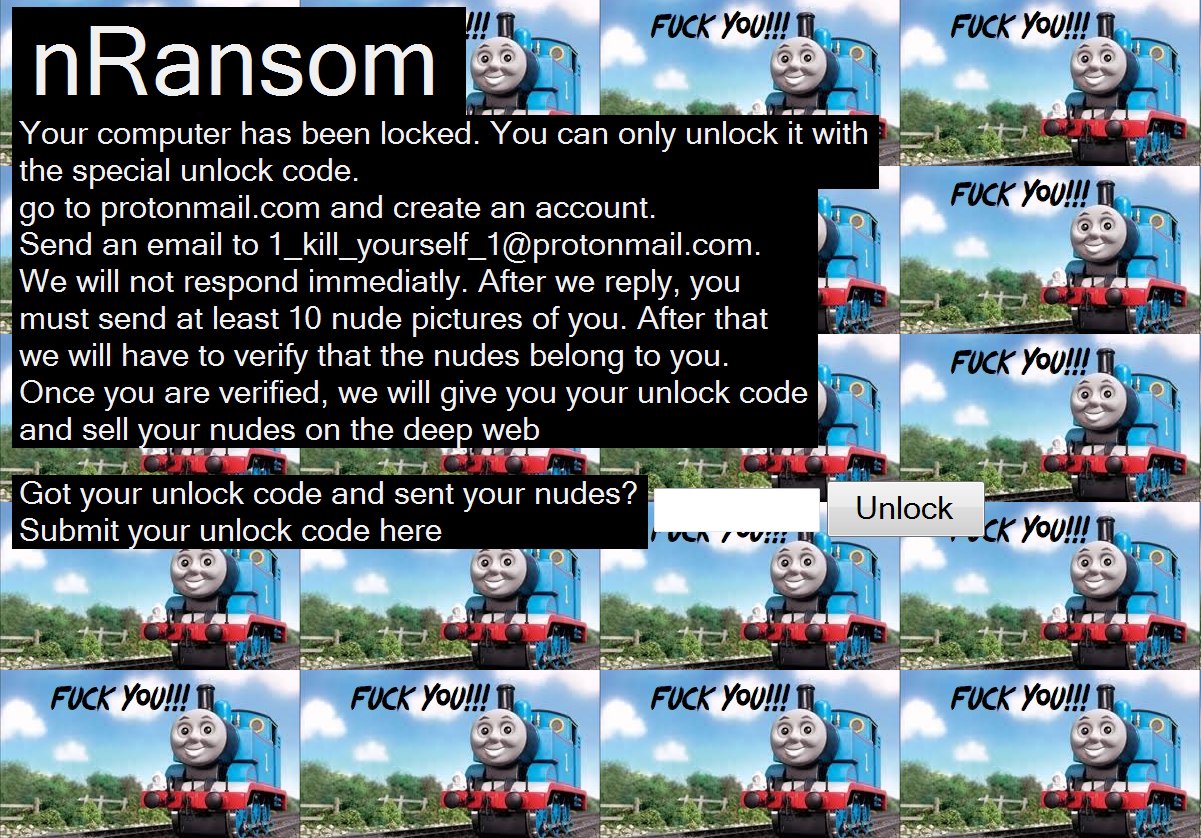 So, how does this work? Well, after striking the user it displays the following message: "Your computer has been locked. You can only unlock it with the special unlock code." The way to get the code is to "Go to Protonmail.com and create an account. Send an email to 1_kill_yourself_1@protonmail.com. We will not respond immediately. After we reply, you must send at least 10 nude pictures of you."
After the user is done, it needs to be verified for authenticity. And after all of it is done, the code will be provided and the pictures will be sold to the Deep Web. Well, that's according to the ransomware, which seems to be most of a joke. This is helped by the fact that Kaspersky shows the virus to be a Trojan that locks the screen and does nothing else. The virus can be contracted easily though, via Spam mail, freeware bundles and porn websites. So be mindful of what you do on the internet.
Activision Blizzard and the US Justice Department reach a settlement over accusations of esports wage suppression
The U.S. Justice Department filed a complaint against Activision Blizzard on Monday in the District of Columbia, accusing the company of underpaying esports athletes, a claim that has apparently already been resolved.
Activision Blizzard was accused by the Justice Department of enacting a "competitive balance tax" in order to reduce competition for professional Call of Duty and Overwatch players in esports leagues. This would act as a salary cap by penalizing a team if player compensations went over a certain limit (established by Activision Blizzard).
Activision Blizzard's representative issued the following in a statement: "We have always held the opinion that the Competitive Balance Tax was legitimate and had no negative effects on player pay. We still hold this opinion today. The leagues voluntarily removed the tax from our rules in 2021 because it was never imposed."
Activision Blizzard has reiterated its commitment to "leading the esports industry and fostering opportunities for players to earn fair pay and benefits," as well as to refrain from enacting the competitive balance tax or any other kind of ceilings or restrictions on the pay of esports players in the future.
In other Activision Blizzard news, UK authorities no longer worry that the ongoing acquisition narrative would have a significant influence on console competition, so it appears to be nearing to some sort of conclusion.
Google appeared as a car manufacturer
Google has recently used CES as a platform to present its philosophy of "Better Together," the notion that all devices should get along with one another. Typically, this entails making announcements regarding new Cast compatibility and features like Fast Pair. The business revealed that it is collaborating with Spotify to incorporate the Connect streaming capability into the Android UI at CES 2023. Additionally, it showed a sneak peek at an audio handoff tool that would recommend various devices to shift your music to based on your preferences and location.
However, CES is a significant vehicle event, and Google also sells items for cars. Additionally, it said today that the Polestar 3 would receive its higher-resolution maps, and it debuted the most recent Android Auto user interface for the first time since it was revealed at I/O 2022.
Two vehicles, a Volvo EX90 with Google preinstalled and a BMW i7 with the new Android Auto experience, were at the Google stand in the trailer lot of the Las Vegas Convention Center. We had never seen the Volvo before, and we'll be posting a separate hands-on on that experience shortly. The new Android Auto is the main topic of this article and video.
The redesigned interface will support larger screen sizes and have a split screen layout, as we discovered at I/O. Google has eliminated the status bar and inserted a row of shortcut keys below it, along with some indication icons in a small area to the top left. When we were in the car, the Spotify app was located on the left panel, and we could access a list of suggested playlists by swiping in from the right side.
Alerts that you won't have time to respond to while driving are likewise stored in this left pane. For instance, you can swipe right on a notification to move it to the dock, where it will wait until you're ready to deal with it.
Check out the video up top for more of our experience with the updated Android Auto in the BMW i7! And be sure to pay attention this week as there will be a ton of news at CES 2023.
Apple Mini-LED Display Supplier Reports Decreasing Demand As Rumors Suggest a Switch to OLED in the Next Few Years
One of Apple's top mini-LED suppliers claims that while the company plans to switch to OLED displays for its iPad and MacBook line in the upcoming years, demand for displays in consumer products is declining while demand for mini-LED in other applications is increasing.
According to a recent report from DigiTimes, the demand for mini-LED displays for consumer electronics devices is declining, but it is anticipated that demand for mini-LED displays for dashboards and vehicle displays will increase in 2023. Epistar, which has been supplying mini-LED displays to Apple for some time, is one company that has made this claim.
The creation of particular kinds of OLED screens that Apple intends to utilize in next iPad Pro models, according to a report published last week, is now Samsung's top priority. The first iPad Pro with an OLED panel, which Apple is rumored to introduce in 2024, has prompted mini-LED vendors to consider alternate applications for their screens, according to DigiTimes.
In 2024, Apple is also expected to release a 13-inch MacBook Air with an OLED display in addition to an OLED iPad Pro. According to reputable display analyst Ross Young, Apple is exploring adopting an OLED panel in a planned update to the iPhone SE but is torn between employing an LCD or OLED display.