The latest in the Assassin's Creed series has been out for a few days on multiple platforms. As such, a few users have started to make their opinions heard in regards how good the game is. Assassin's Creed: Origins was a promise to regain the credibility the series has lost, after all.
However, the game is going to be surrounded by controversy. As a report has shown that a big chunk of the game's positive reviews is from fake users.  The report made by Kotaku shows that reviews with awful grammar and structure are plastered all over the game's Metacritic page.
"Ways better than assassins creed unity and assassins creed syndicate," reads a review that appears roughly a dozen times, each from a different username. "it is more mature and bayek is interseting character, and de historical characters are handeld well."
There are over 600 reviews like this, and a great portion of them are made from fake accounts. The way they are handled makes exaggerated claims about the game and some are downright ignorant of the series' staple mechanics. With this, the game has reached a score of 8.0 at the moment of writing, but it has since changed to 7.0.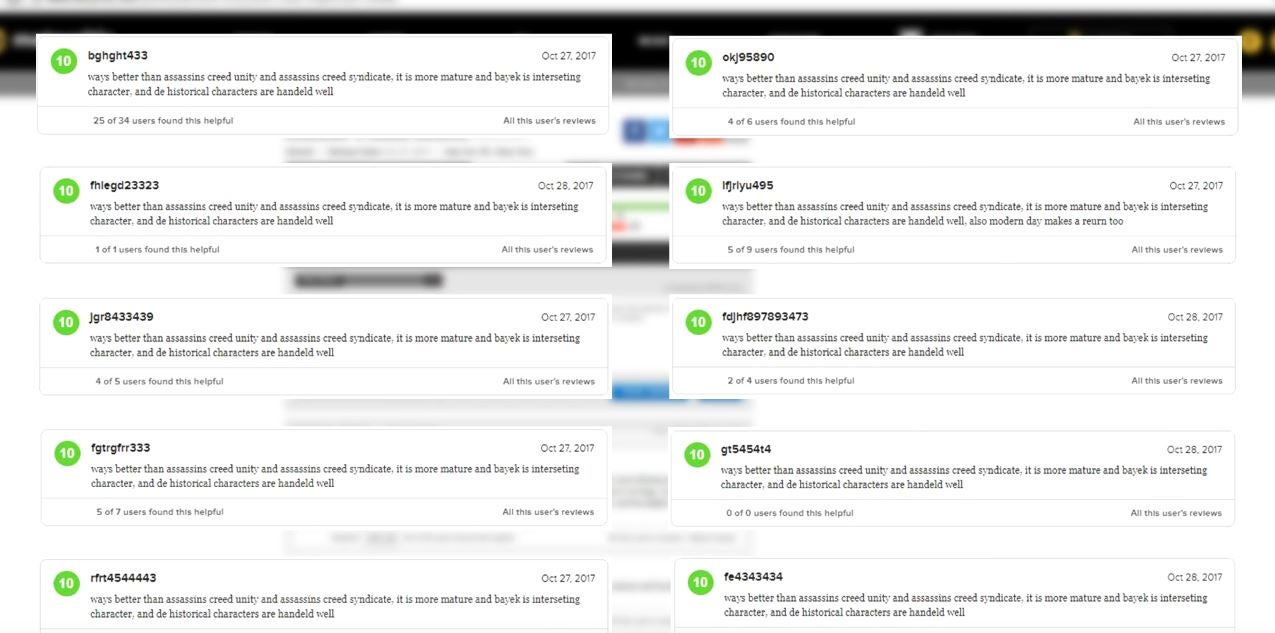 I must make clear that, while Metacritic has a User Reviews portion separated from the Certified Critics one. It doesn't mean that User Reviews aren't important. On the contrary, the User reviews also have a very powerful impact in the decision of purchasing a game to some players. Also, Ubisoft has denied any responsibility in regards to this, it's something out of their control.
Metacritic boss, Marc Doyle said that this sort of thing has happened before. "It's not a frequent occurrence, maybe 2 – 3 games a year," Doyle said. "And yes, we've been aware of this case, and we've been moderating those reviews (and suspending those accounts – most off of which had one single review in their history)."
It's certainly weird to see this sort of occurrence happening in the world of User Reviews. However, it's important to note that Reviews have to be clean from both sides. And it's the duty of the people who contribute to Metacritic to offer this insight.